PACE theatre company is introducing Enchanted Forest, an interactive play experience, created in partnership with Soundplay Projects and featuring their Soundplay Dome.
The Enchanted Forest is a magical immersive space where children can play, create stories, explore and expand their imaginations. At the heart of it sits the Soundplay dome, an installation that allows young people and their families to experiment and have fun with music, light and sound.
Audiences who attended the company's annual panto in December were given a sneak preview before and after performances but now an exciting programme of drama, music and visual arts workshops has just been announced.
The main forest exhibition will be open to the public for free play sessions several times a week until Easter, and this will be complemented by a range of drama, storytelling and visual arts workshops. Most of the programme of activities is completely free for families to take part in, although we recommend booking in advance as numbers are limited for some events.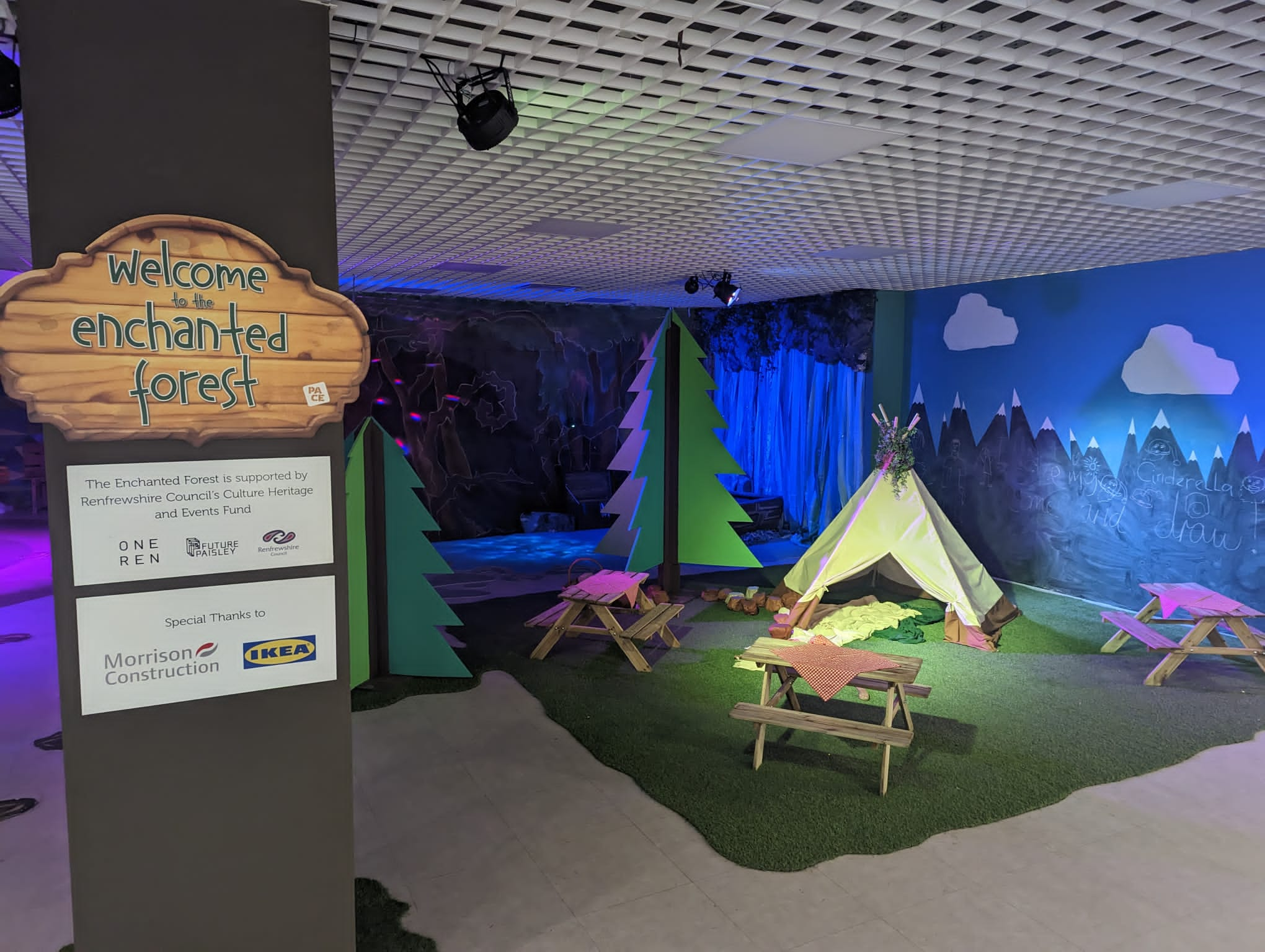 Highlights will include Sensory Play, using sound, rhythm, movement and light in the Soundplay Dome; Campfire Stories, interactive storytelling, sing along songs and sensory play; Little Music Makers, a fun and creative musical session; Make and Create, craft and play sessions creating anything from paper fox puppets to a giant bird house; and the Forest Disco, a daytime disco for under 5s and their grown-ups.
We're also delighted to be introducing Glow; our first class for young people aged 5-12 with additional support needs; these fun and relaxed sessions will focus on building confidence through creative and sensory play.
Finally, young audiences will also be able to enjoy an exciting promenade theatre performance in the space in late March, and more details of that will be announced shortly.
Jenni Mason, Artistic Director of PACE said: "We are really excited to have created a magical, immersive arts experience for young people and their families to explore and enjoy together. We've been delighted to work with Soundplay projects to develop interactive musical and sensory experiences to sit at the heart of it.
"The experience is designed to will help build social and language skills, at the same time as inspiring little imaginations. We can't wait to see everyone interact and create and play!"
The Enchanted Forest is generously supported by Renfrewshire Council's Culture, Heritage and Events Fund (CHEF), which seeks to harness the power of culture to make people's lives better throughout Renfrewshire.
Councillor Lisa-Marie Hughes, chair of the Future Paisley Partnership Board said: "Supporting projects that highlight the contribution creativity can make to education, social inclusion and quality of life is a key part of the Culture, Heritage and Events Fund.
"With the majority of activities being free to attend, the Enchanted Forest is helping to open up creative activity to families with young children who may never have taken part in anything like this before. It's a fantastic opportunity to come together as a family, and experience something magical."