Shoppers at Braehead are being urged to donate to the Red Cross emergency appeal this weekend following the devastating earthquakes in Turkey and Syria.
The shopping centre is hosting bucket collections in the mall by the Rotary Club of Renfrew this Saturday and Sunday between 10am and 6pm.
The Red Cross Turkey-Syria Earthquake Appeal is raising money to assist the rescue effort by providing emergency First Aid and helping evacuate people from the disaster areas.
More than 20,000 have been killed and thousands more injured in the earthquakes earlier this week as hundreds of buildings collapsed.
On Monday a 7.8 magnitude earthquake struck southern Turkey near the city of Gaziantep, devastating parts of the country and also neighbouring Syria. It was followed by a series of powerful aftershocks.
Then a second earthquake of 7.5 magnitude hit the Elbistan district around 80 miles north of Gaziantep.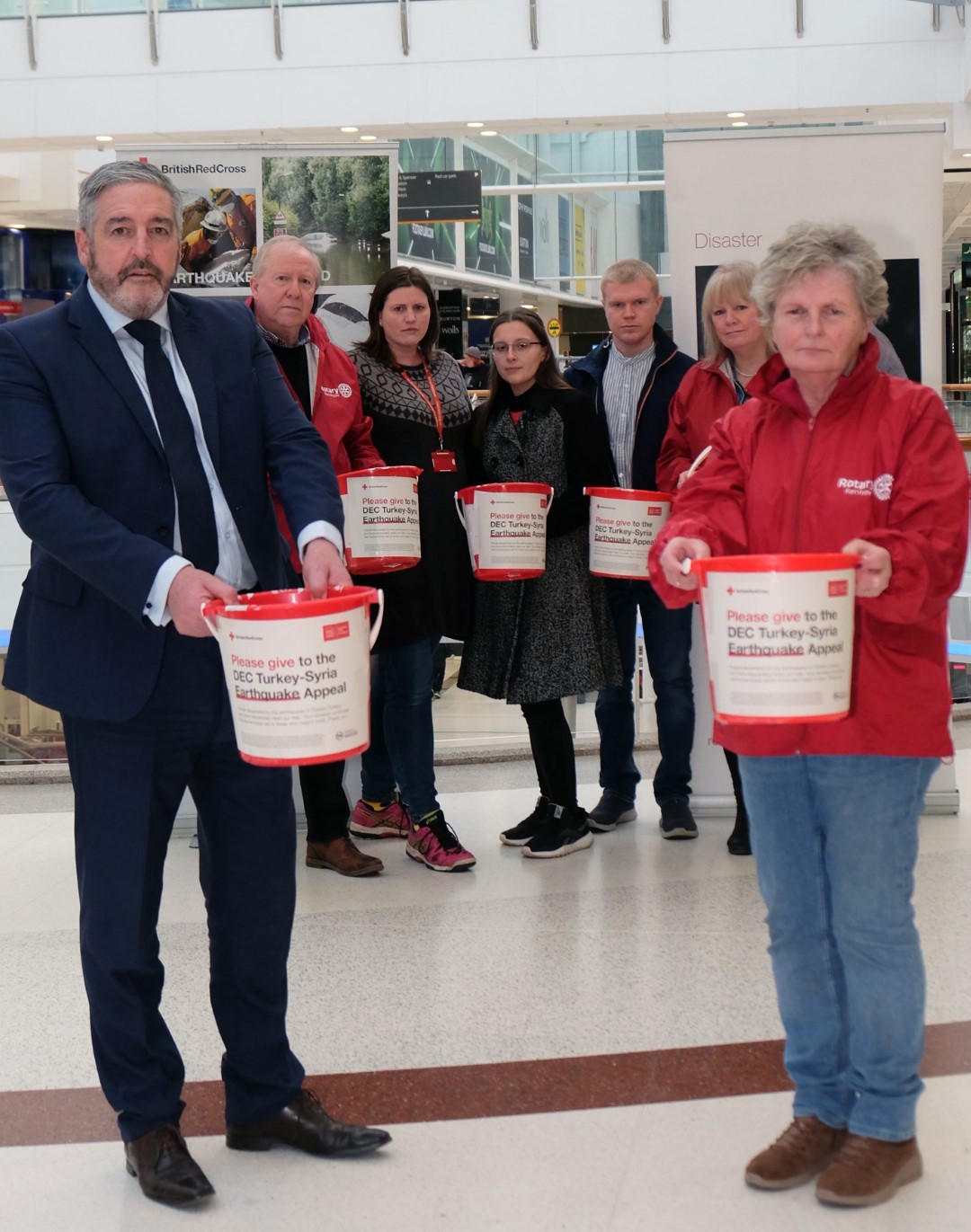 Photo: Braehead shopping centre's director, Peter Beagley, front left and Rotary Club of Renfrew President, Marion Wallace with some of the Rotarians who will be collection for the Red Cross Turkey-Syria Earthquake Appeal in the mall this weekend
President of the Rotary Club of Renfrew, Marion Wallace said: "We've all seen the harrowing pictures on television of the effects of the earthquakes and the frantic rescue efforts to save people still trapped in the rubble of their homes and workplaces.
"This is the time for people of all nations to come together and help in these rescue efforts."
Gary Louttit, chairman of the Rotary Club of Renfrew's International Committee added: "We hope by having our members carrying out bucket collections at Braehead for the Red Cross emergency appeal, we're giving everyone the chance to do something to help those caught up in this humanitarian disaster.
"We must thank Braehead for allowing us to use the centre and give us access to a large footfall for our fundraising efforts during a busy weekend of shopping."
Peter Beagley, Braehead centre director said: "We're doing all we can to help Gary and the Rotary members collect as much as possible for the rescue effort following the earthquakes.
"We would encourage shoppers to give whatever they can to the Red Cross Appeal and keep an eye out for the collectors wearing red jackets and carrying red buckets where donations can be made."