Over 200 teachers, practitioners, community projects and young musicians from local authority areas across Scotland met to celebrate Youth Music Initiative (YMI) 20th anniversary at Johnstone Town Hall.
The day hosted by YMI included musical performances and discussions about music education with Culture Minister Neil Gray giving the closing speech.
Launched in 2003 through Creative Scotland and funded by the Scottish Government, YMI aims to break down the barriers to music making by offering free access to children and young people across Scotland. Over the last 20 years, the music education programme has increased participation from 60,000 to 360,000 young people per year.
In March 2022, the programme kicked-off a year of celebrations to mark this significant milestone with the focus on telling the incredible stories of the children and young people who have benefited from the programme since it began.
Hosting the event, YMI Manager Morag Macdonald said: "A key aim of this event is to pay tribute to those who make it all happen and celebrate the achievements of the last 20 years while looking firmly into the future of this essential initiative.
"Donna Maciocia who was part of the event summed it up wonderfully when she spoke of the programmes ability to support projects that 'combat loneliness, social isolation, and mental health issues, build self-esteem, provide so many life-affirming, warm and fuzzy, teary joyful moments' and through this 'creating opportunities for participants to feel truly heard for the first time in their lives'".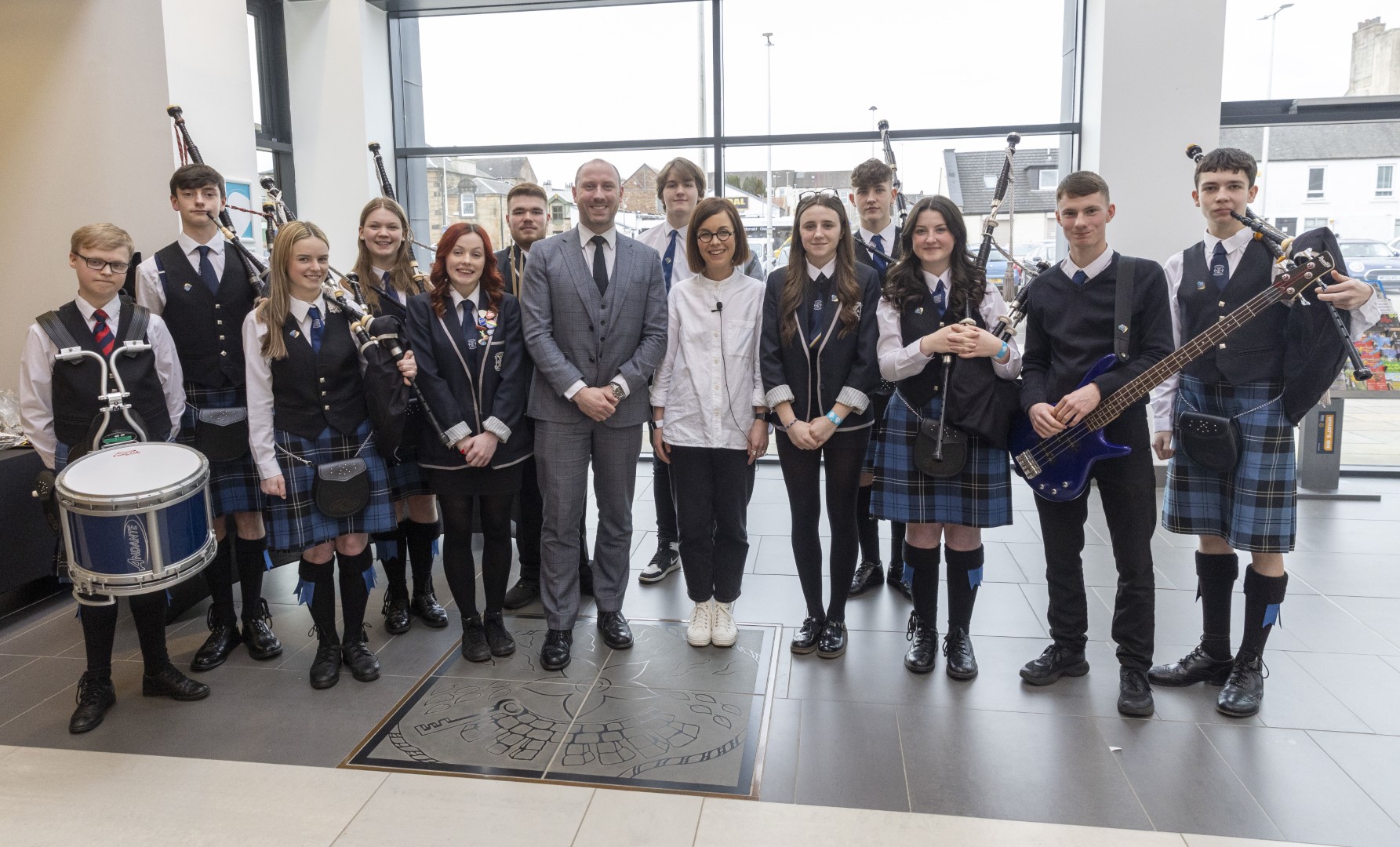 Photo: Culture Minister Neil Gray & YMI Manager Morag Macdonald with musicians from Johnstone High School and members of the Renfrewshire Youth Pipe Band
Photo Credit: Youth Music Initiative
Culture Minister Neil Gray said: "Over the years YMI has delivered an impressive record of achievements. I'm particularly proud of the organisation's engagement with under-represented groups of children and young people who might not otherwise have the opportunity to take part in making music. It is well-documented that participation in creative activities from a young age inspires and motivates our children, boosting their wellbeing and attainment.
"As we set out in the Scottish Government's Culture Strategy, we want children and young people, no matter who they are or where they come from, to experience the transformative power of culture and YMI helps us to bring that ambition to life
The day was made up of panel sessions from Scotland's youth music community, exploring personal stories and the national picture, with speakers from YMI funded initiatives including National Youth Pipe Band of Scotland, Reeltime Music and Ando Glaso, and speakers from across the industry including musician, educator and activist, Dr Diljeet Kaur Bhachu.
The event also invited guests to enjoy a day of musical exploration, through a series of breakout spaces where they could Come and Watch young performers, Come and Hear from inspiring projects and Come and Try cutting-edge equipment.
Ensemble opened the performances in the Come and Watch space with a soulful session from their group of young musicians. Ran by the Wheatley Group, Ensemble is about creating music to transform lives, and was developed in consultations with young people receiving support at Wheatley Care. The award-winning projects empowers young people who would not normally have the chance to take part in music making, to create new, original music.
Another YMI funded project Sound Lab showcased Astroknot – a young Edinburgh rapper who engaged with the project after his support workers in the care system encouraged him to take part in more positive projects, as he admits himself his life was going in in a dark direction through substance abuse.
Astroknot treated guests of the event to his unique hip-hop sounds. He dedicated one song to his Grandma, who raised him as her own and this song is about the ups & downs. Sound Lab helps young people and other communities to fulfil their creative potential through free music, media, digital and arts tuition.
Johnstone High School and members of the Renfrewshire Youth Pipe Band brought the event to a close, playing a vibrant rendition of Ozzy Osbornes "Crazy Train".