A 101-year-old World War II Veteran, who served as a Commando across Europe, will represent Erskine as a host of volunteers take on the Glasgow Kiltwalk to raise funds for Scotland's largest Veterans charity.
Former Royal Marine Sandy Cormack, who lives at The Erskine Home in Bishopton, is among a band of fundraisers tackling the walking challenge on Sunday, April 30th.
Having enlisted in 1941, Sandy served in the Italian campaign and had been prepared to take part in the D-Day landings. Ultimately, his corps were not called upon, but they would go on to play an important role across France, the Netherlands and Germany in pursuing the retreating German army.
Seven Veterans, including Sandy, will be accompanied by a group of 20 carers, physios, transport staff and volunteers – all resplendent in their Erskine kilts. They will start their Big Stroll at Clydebank and aim to have finished five hours later at Balloch.
Sandy said: "The Kiltwalk is a fantastic cause to get behind and I am really looking forward to getting out and fundraising for Erskine. Everyone has really come together and are looking forward to taking on the challenge alongside one another."
Erskine Head Physiotherapist Lynne Barr, who has been instrumental in encouraging Veterans to join in with the Kiltwalk. She said: "It is hugely important for our Veterans to keep fit and well. The Kiltwalk has provided us with a fantastic opportunity for both our staff and Veterans to work together to not only prepare for the walk, but also develop their fitness all while raising money for the best cause."
The generosity of Kiltwalkers raises thousands for the Erskine every year and enables the charity to support over 1,000 veterans. A favourite in Scotland's social calendar, the Kiltwalk events, which run from April to August, get walkers to stride, stroll or wander all in the name of charity.
Army Veteran Billy Haynes, 71, said: "I have never done anything like this before and never thought I would so I am really looking forward to the day."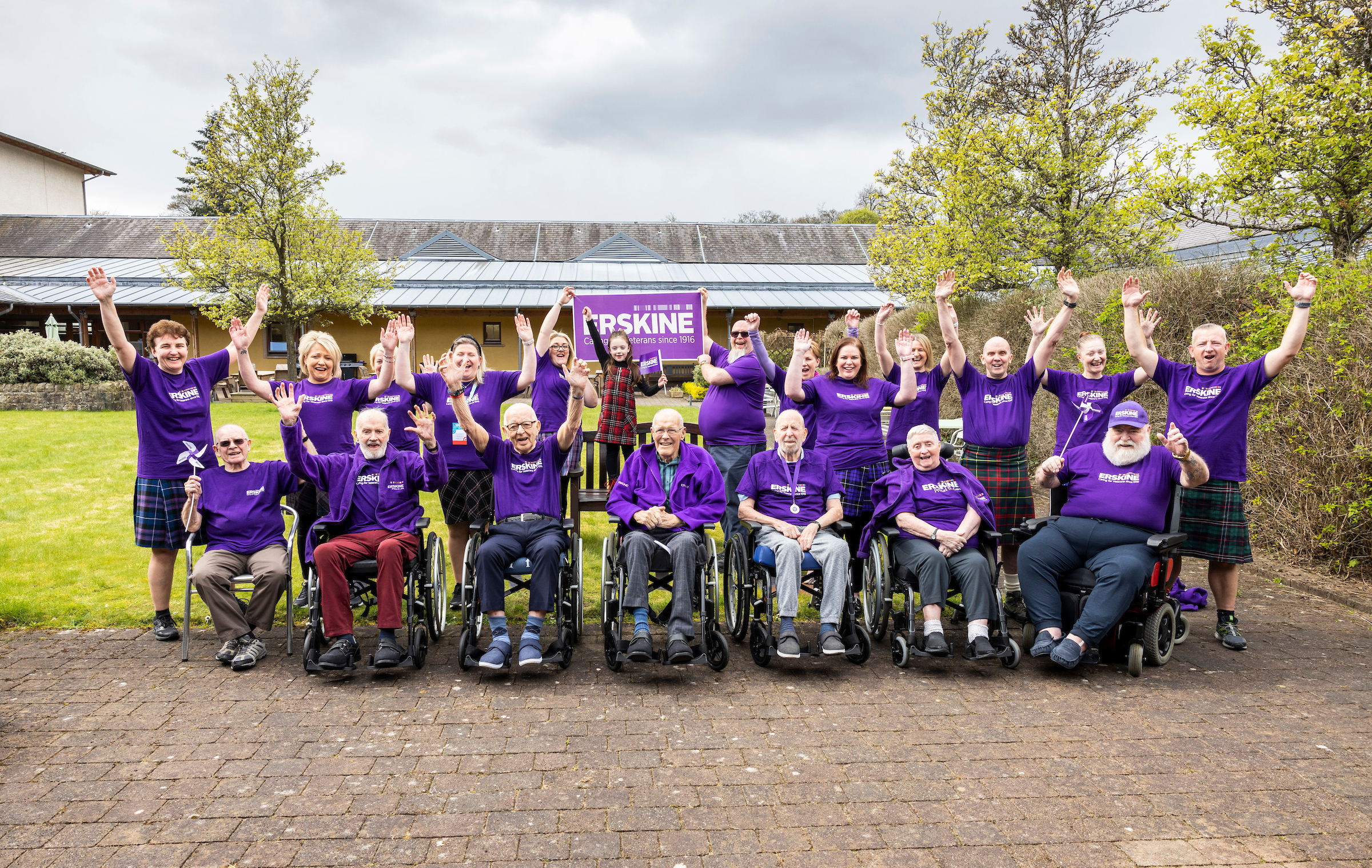 Photo: Group of Erskine staff and volunteers. Young lady is 5-year-old Amber Corry alongside Veterans (left to right): RAF Alex Bremner (87), RAF David Ness (87), REME Ian McMaster (86), Army Ian Reid (85), Royal Marine Sandy Cormack (101), Spouse of HLI Veteran Nancy Connor (79) and Army Billy Haynes (71)
RAF Veteran David Ness, 87, said: "It should be a great day especially as I am being pushed and not doing the hard work!"
Nancy Connor, 79, whose husband Charles served with the Highland Light Infantry, is the only woman in the group. She said: "Well, someone needs to keep this lot in line! This is a good opportunity to get out and about and raise money for Erskine at the same time."
Erskine Chief Executive, Ian Cumming MBE, said: "I am beyond proud that so many of our Veterans, staff and volunteers are walking the walk for Erskine. Erskine is our Veterans' home and by taking part in the Kiltwalk our supporters will be helping to provide the high standard of care our Veterans so richly deserve and enjoy. The Kiltwalk for Erskine is the perfect opportunity to get outdoors and support our nation's Veterans through fitness and fun."
For more information visit www.thekiltwalk.co.uk or contact Erskine Community Fundraiser Sharon Meiklejohn on sharon.meiklejohn@erskine.org.uk or call 0141 814 4620.