Taylor Wimpey West Scotland has been awarded the coveted Investors in Young People (IIYP) Platinum Accreditation – making it the only housebuilder and just one of 12 organisations in Scotland to secure this award from the Investor in People accreditation framework.
From its regional head office in Paisley, a team of eight young people from different areas of Taylor Wimpey West Scotland's business took part in a 12-month comprehensive and detailed process.
This involved a series of interviews that allowed the assessment team from Investors in Young People to understand the pathways, experiences, and support that Taylor Wimpey offers its young people across all the areas of its business.
Taylor Wimpey West Scotland is passionate about future-proofing its workforce and attracting young talent into the housebuilding industry, and it is very proud to have achieved this respected and independent award.
David Blair, Managing Director for Taylor Wimpey West Scotland, said: "We aim to be an inclusive employer and to attract, retain and promote employees from all backgrounds. As a company, we are committed to investing and nurturing the next generation of talent in order to future-proof our business.
"Our approach to promoting the variety of careers and breadth of opportunities within our business is encouraging young people to take a look at the housebuilding industry with fresh eyes, which is very encouraging.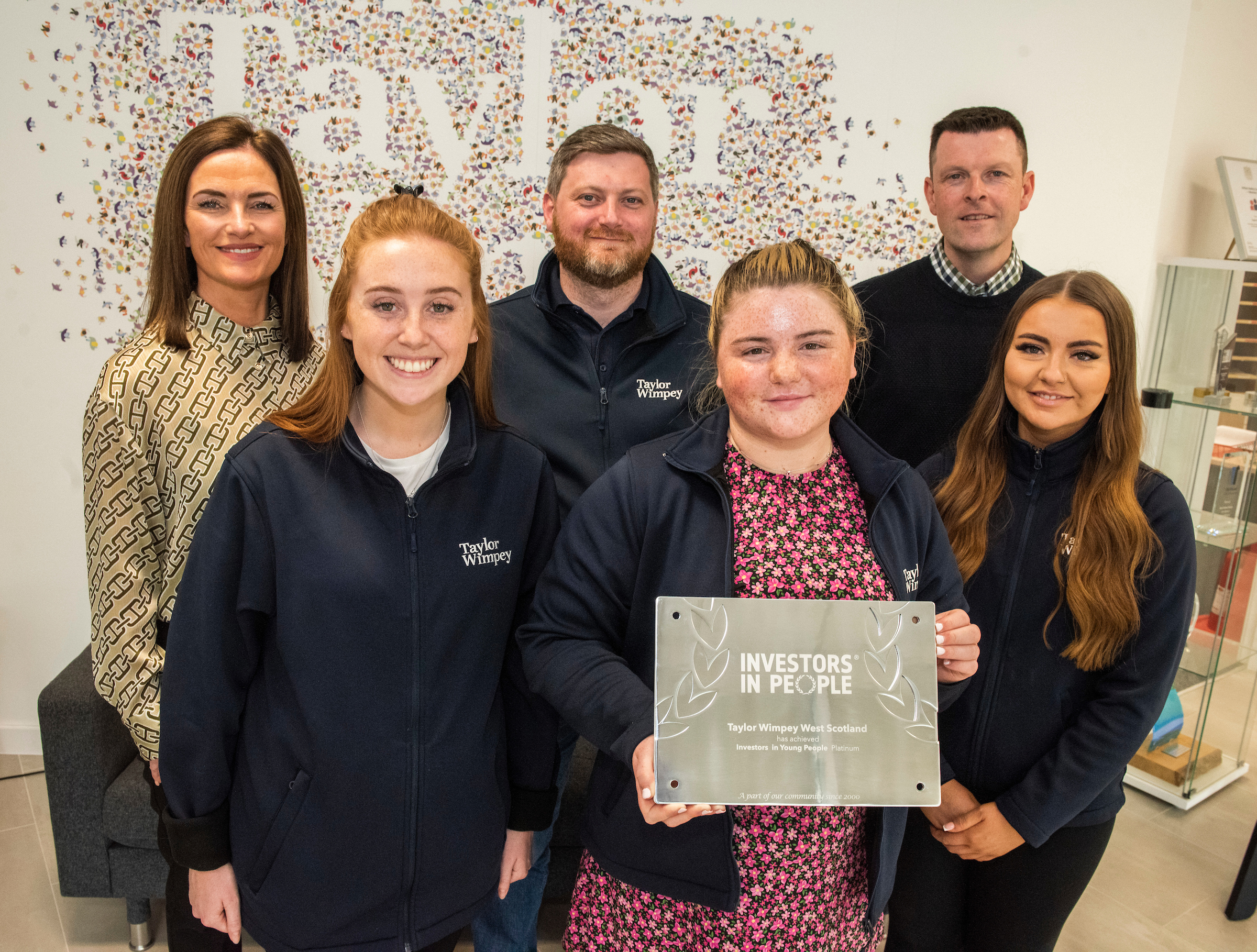 Photo: Members of Taylor Wimpey's Young Person Forum including Kara Newman (centre) along with (left to right) Audrey Ross – Sales and Marketing Director, Mark Stevenson – Site Administrator and David Blair – Managing Director in Taylor Wimpey West Scotland's regional office in Paisley
Photo Credit: Chris Watt / Taylor Wimpey West Scotland
"We are very proud of our young people for securing the IIYP Platinum Award which recognises the investment that we make for the benefit of both our business and the wider housebuilding industry.
It also follows our Platinum accreditation for our main regional business which underpins and recognises the importance and value that we place on investing in our people."
Kara Newman, Trainee Sales Administrator and Chair of Taylor Wimpey West Scotland's Young Persons' Forum adds: "We are delighted to have received this accolade from Investors in Young People, and for it to reflect the positive journey and experience that Taylor Wimpey offers every young person in the west of Scotland business.
"Being just one of 12 organisations in Scotland to have achieved this award, and for us to be the first housebuilder just amplifies how delighted we are to have been given this recognition. We also understand that it would normally take a business around three years to reach the Platinum accreditation. However, to demonstrate our commitment to securing this award, we set ourselves the challenge of completing the assessments and tasks in a much shorter period of time. Everyone involved is very pleased to have achieved this accreditation in just one year."
Practitioner Nicola Dillon praised Taylor Wimpey West Scotland's achievement, she said: "On behalf of IIP CIC, I would like to wholeheartedly congratulate Taylor Wimpey West Scotland on achieving the prestigious IIYP Platinum accreditation.
"Taylor Wimpey West Scotland is an ambassador for employing young people and is an exemplary employer for the sector to be benchmarked against. What stands out is their passion and commitment from the top down to grow their own in-house talent and to equip their young people to learn, develop, reach their full potential, and have a rewarding career in the housebuilding industry.
"Their focus on empowering their young people and their Youth Forum to have a voice and lead on projects to enhance their youth employment practices around the attraction, recruitment, development, and retention of young people is commendable."