A new bin pilot which aims to tackle lunchtime litter in Renfrewshire is underway as pupils are urged to take care of their environment.
Eight additional branded litter bins are being placed on known busy routes to encourage young people to use them rather than throwing litter away.
The first school to be part of the new pilot is Johnstone High School, with new bins being placed along Beith Road, near the Community Sports Hub and on Auchengreoch Avenue.
The bins will be in place for a period time before moving to another school in Renfrewshire to target a hotspot area, with the remaining bins around the school being branded to attract attention and continue the improved behaviour.
Miss Semple teaches geography at Johnstone High and is keen to ensure her pupils take responsibility for their choices when it comes to the environment.
She said: "Our pupils have been learning about sustainability and the impact that they can have on our environment, both locally and globally.
"They have been working as a team to tackle the issue of litter, taking ownership of the part that young people play in this, and are aware that these bins will make a massive difference.
"They are keen to keep up the good work Johnstone High is known for and we are exceptionally proud of our young people – it's our intention to keep up the good work throughout the year."

Photo Credit: Renfrewshire Council
The pilot launched during Renfrewshire's Big Spring Clean which is part of the council's award-winning Team Up to Clean Up campaign.
The event brought more than 670 volunteers together to take part in litter picks across Renfrewshire, with more than 2,200 bags of litter and tonnes of fly tipping removed from the local environment.
The Take the Lead campaign was also launched as part of the event to promote responsible dog ownership and a mass dog walk in Barshaw Park saw more than 40 dogs and 80 owners take part and pledge to be responsible dog owners – and in return they received a new branded lead, dog poo bag dispenser and light for evening walks.
Councillor Michelle Campbell, Convener of Renfrewshire Council's Infrastructure, Land and Environment Policy Board, said: "Lunchtime litter is an ongoing issue and we want to encourage pupils to always use a bin, even if that means keeping the litter until you next come to a bin.
"We hope the additional branded bins will catch the eye of pupils and reduce the amount of lunchtime litter, but most importantly we hope it will change the attitude that litter can be thrown away and they'll continue to use the bins when the pilot moves to another school.
"Through Team Up to Clean Up, we continue to strive to change ingrained behaviours and we want the next generation to lead from the front and protect our environment for their own and future generations."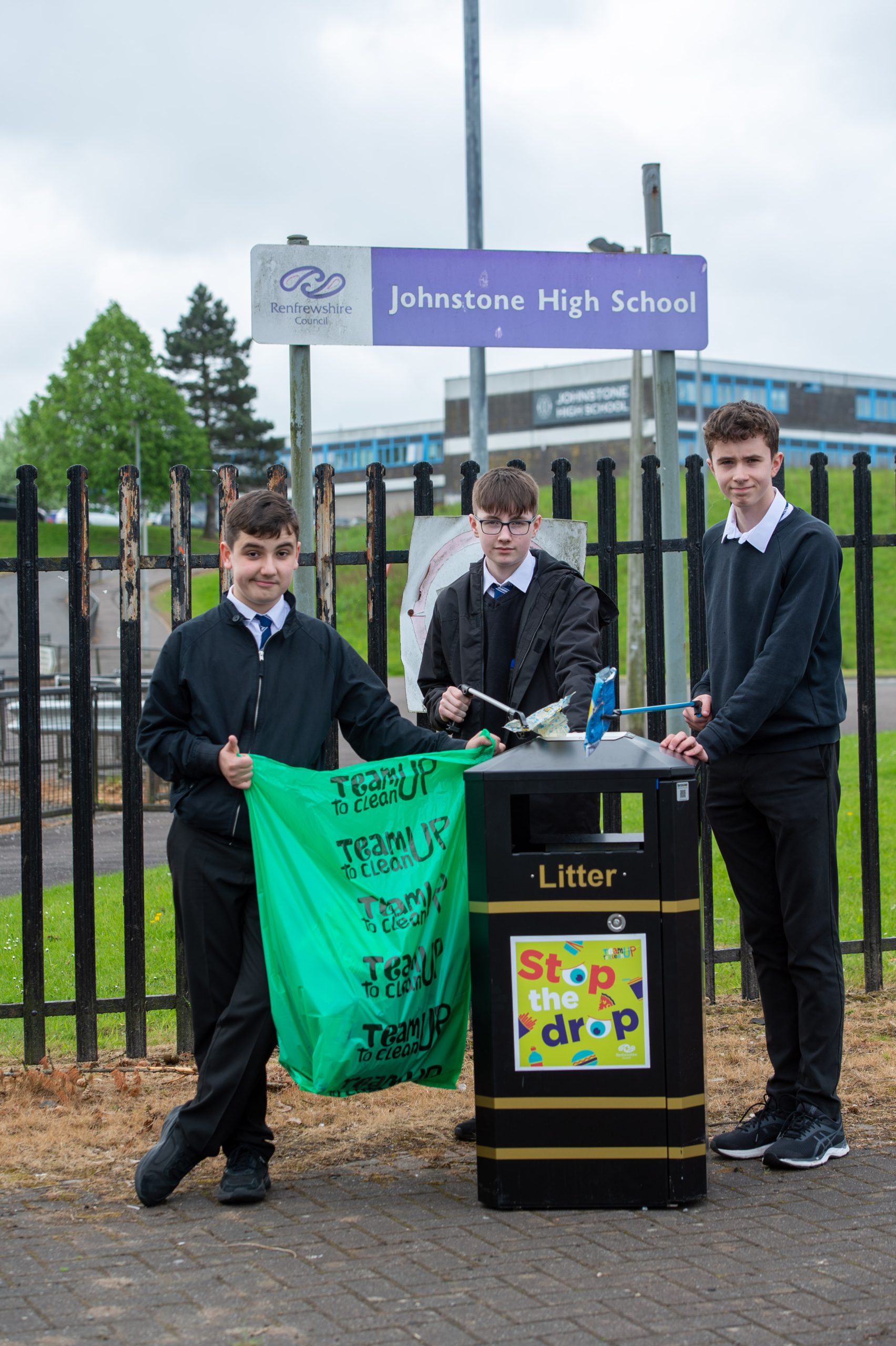 Photo Credit: Renfrewshire Council
Local people can get in touch with the council to be provided with equipment, safety advice and support, and the council will clear the collected rubbish away after a litter pick from an agreed location.
Volunteers can take part themselves or invite other like-minded people to join them on a litter pick through the campaign's Facebook group which has more than 4,500 members.
To request equipment, call 0300 300 1375, email wardens.es@renfrewshire.gov.uk, join the Facebook group at www.facebook.com/groups/teamuptocleanup or visit the Council website at www.renfrewshire.gov.uk/BigSpringClean.