Quarriers Renfrewshire Head Injury Service (RHIS) was delighted to host George Adam, MSP for Paisley and Tom Arthur, MSP for Renfrewshire South, to highlight the work that the service offers to people in the Renfrewshire area who live with an acquired brain injury.
Mr Adam and Mr Arthur heard from Margaret McIntyre who is the Project Manager at the Paisley-based service, who explained how the service supports people aged between 16-65 years old, and also how someone might sustain an acquired brain injury, for example, a sporting injury, road traffic accident, assault, fall or an infection.
Margaret went on to talk about the several types of support that the service offers ranging from one-to-one and/or group support for the person with the acquired brain injury and their family.
Recovering Minds sessions are aimed at providing the person and their family with a better understanding of the acquired brain injury and how to develop skills and strategies to aid daily living. The Sunshine Club and #Groupchat community groups offer peer support and plenty of enjoyable activities for the person with the injury. And Family Connections and Top Cats are the community group settings for family members both adults and children. Also, the service offers Brain Injury Awareness Training to Quarriers and Council staff.
Telling her story of living with an acquired brain injury was Julie Crawford, who as a young and physically fit mum and teacher, suffered a rare type of stroke. Julie talked about her own recovery and the challenges she initially faced and how the support of RHIS made an enormous difference in helping her deal with the changes in her life that she has had to adapt to.
Richard Williams who is also a client and now the Media Monitoring Volunteer for the service was also present to talk about his own brain injury which he acquired by falling from his doorstep. Richard talks openly about his acquired brain injury as he wants to highlight the help that he received when he needed it most and how being referred to RHIS, and being part of The Sunshine Club, has helped him build resilience to deal with his injury.
Mr Adam and Mr Arthur were keen to hear about the service so that they could signpost any constituents in their area, who may be living with an acquired brain injury, for support.
Mr Adam said: "It was great to visit with the Renfrewshire Head Injury Service and I am delighted such an important service exists to support anyone in my constituency who has an acquired brain injury, along with their families.
"Hearing from both clients and organisers alike about how vital this service is to those currently recovering and how helpful the support in place is within our community was truly inspiring.
"Everyone who works tirelessly to make the service what it is should be incredibly proud of themselves and I would like to thank both Julie and Richard for taking the time to share their experiences with Tom and I.
"Thank you for inviting me along and I look forward to hearing about the continued success of your organisation as I know you will continue to be a life changing force within our town."
Mr Arthur added: "It was really great to get along to RHIS and to hear from the Project Manager, Margaret, about all of the amazing work that they do across Renfrewshire. It was particularly interesting to chat with Julie and Richard, who have lived experience of head injuries. Their tenacity and determination are an inspiration to us all and it is fantastic to see how RHIS has helped them with the challenges that living with a head injury can bring.
"Thank you to all of the team at RHIS, for taking the time to speak with us and for the invaluable service that you provide to people in Renfrewshire."
Project Manager, Margaret McIntyre, concluded: "We are delighted to have had the opportunity to discuss with Mr Adam and Mr Arthur the diversity of RHIS and the various roles undertaken by staff and volunteers in meeting our clients support needs. As a Quarriers project funded by Renfrewshire HSCP we will continue to adapt and develop, as we have always done over the last 20 years to ensure that people with an acquired brain injury and their families have a specialised service within the Renfrewshire local authority."
For more information about the Renfrewshire Head Injury Service, visit www.quarriers.org.uk/services/renfrewshire-head-injury-service-2/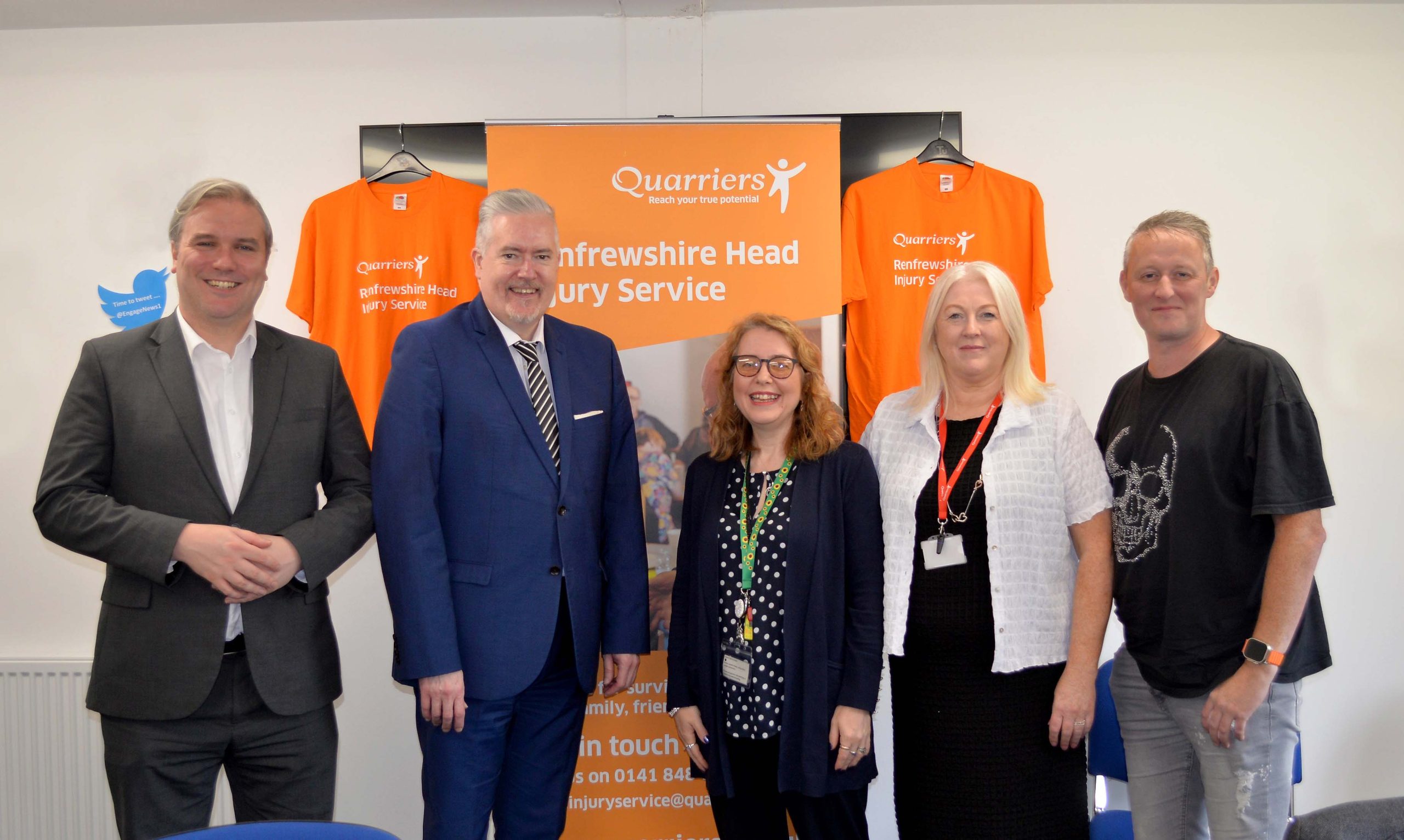 Photo: Renfrewshire Head Injury Service (RHIS) hosted local MSP's Tom Arthur and George Adam to highlight the work the service does for those in the community living with an acquired brain injury. Also pictured are Julie Crawford, client of RHIS; Margaret McIntyre, Project Manager and Richard Williams, client of RHIS and Media Monitoring Volunteer Photo Credit: Quarriers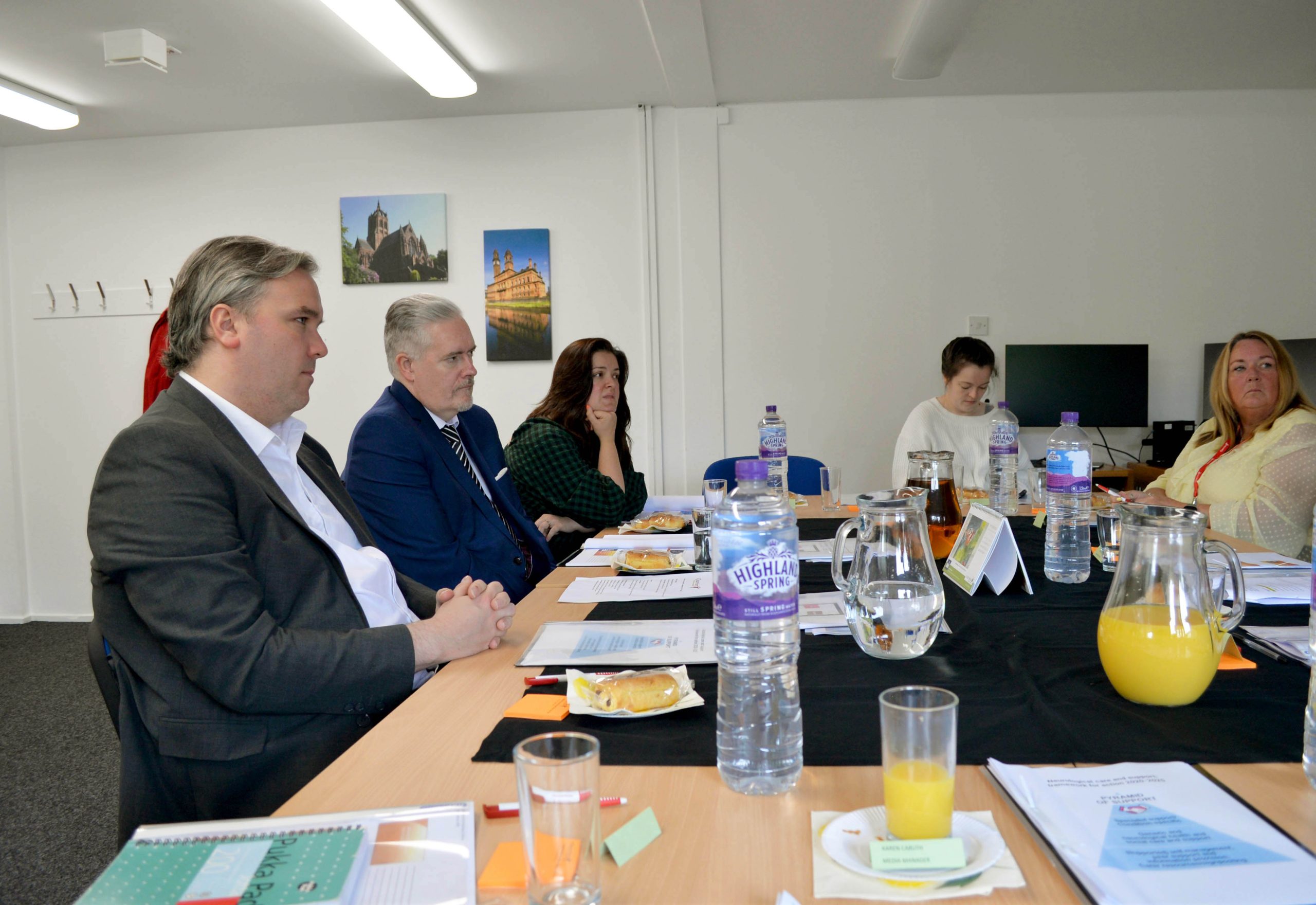 Photo: Tom Arthur MSP and George Adam MSP visited the Renfrewshire Head Injury Service to hear what the service can offer to people in the Renfrewshire area living with an acquired brain injury Photo Credit: Quarriers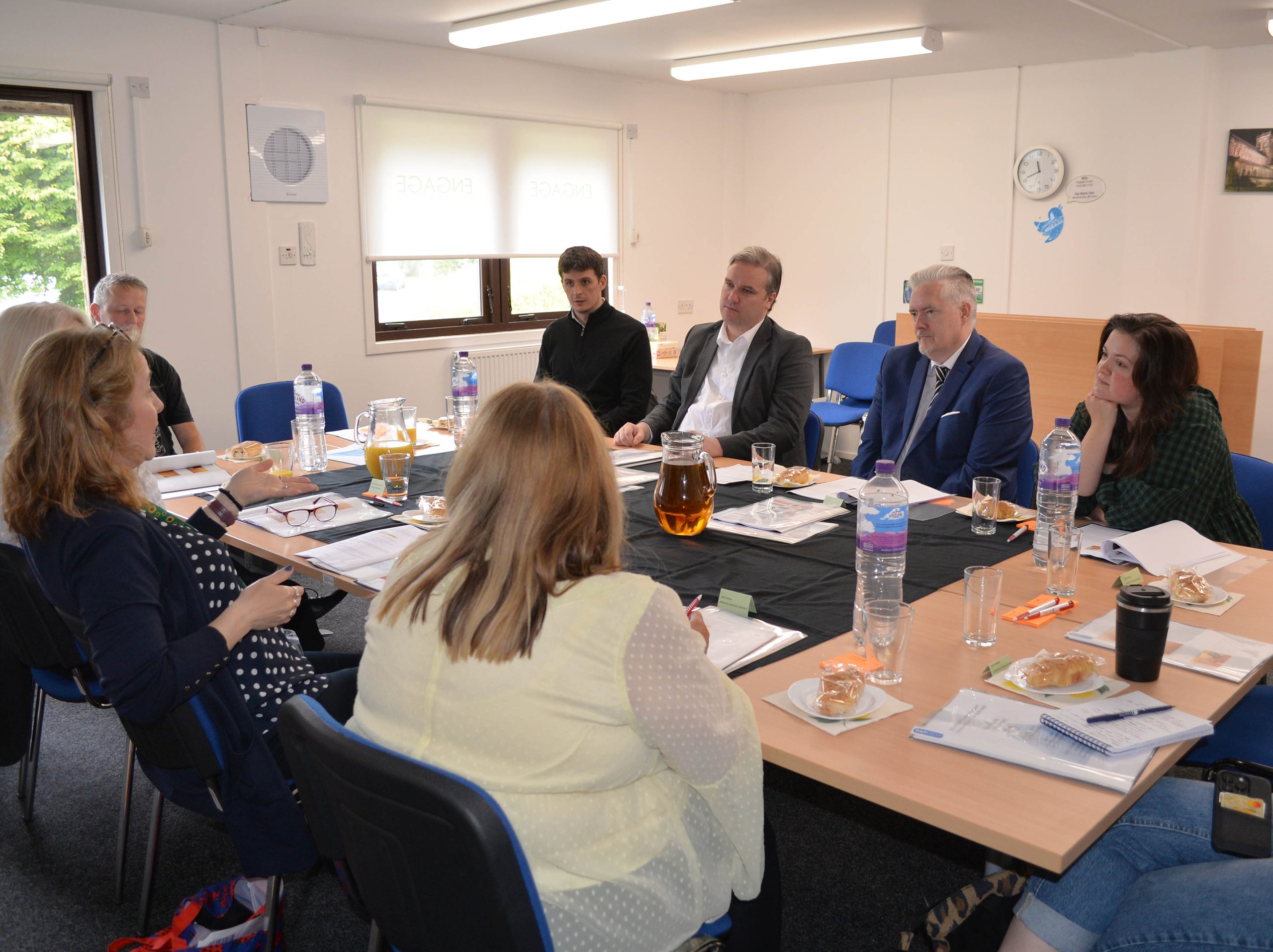 Photo: Local MSPs Tom Arthur and George Adam visited the Renfrewshire Head Injury Service to hear what the service offers people who live with an acquired brain injury. Here they hear from Pauline Crawford who is a client of the service Photo Credit: Quarriers