It was a dream come true for youngster Hunter Adair when he became the Glasgow Clan's ice hockey team coach for a day.
The seven year old gave the Clan players a spirited team talk and went through the tactics in the dressing room before their home game against Sheffield Steelers, at Braehead Arena, last night.
Hunter was taking part in the Clan's Kids Takeover Night when youngsters were invited to take on a variety of roles helping the grown-ups run the game night.
As well as a Kid Coach, there was an Announcer's Apprentice, DJ's assistant, security, merchandise stall, Box Office and hospitality helpers. Youngsters also helped promote 50/50 and Shirt Off The Back prize draws and Chuck-A-Pucks.
As part of the Kids Takeover Night, young people under the age of 16 were given entry to the Clan game for only £1.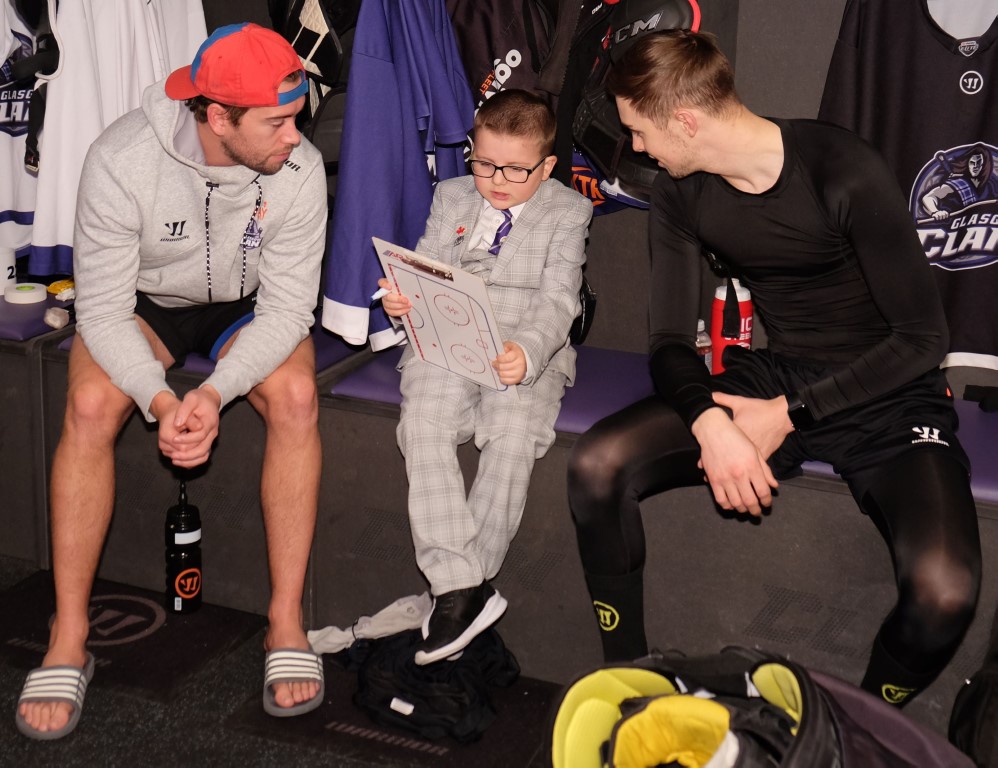 Photo: Glasgow Clan team captain Dyson Stevenson, left and netminder Euan Simpson get some last-minute instructions from coach for the day, Hunter Adair
Hunter said: "I was very excited to be the Glasgow Clan coach for the game against the Steelers. I told the players if they play from the heart then they'll win.
"I go to a lot of Clan games and I'd like to be an ice hockey coach when I'm older."
Gareth Chalmers, managing director of the Glasgow Clan said: "The youngsters all did a great job helping us make sure everything went smoothly on the game night.
"And it looks like Hunter has all the makings of a good ice hockey coach when he gets older.
"The Clan players, staff and fans are one big family and the Purple Army of the future are very much part of that.
"We're a family-orientated organisation and as well as a game of ice hockey, folks of all ages come to our games for a complete entertainment package with everything that goes on during an exciting Clan home game."
Unfortunately, Clan were unlucky to be narrowly defeated 3-2 in overtime.
Headline photo: The Glasgow Clan players meet their coach for the day, Hunter Adair