In the late 90s, a golden, idealised version of Glasgow provided an uplifting image for those embarking on international trips from the city's international airport.
The huge, emblematic work by Steven Campbell, was commissioned by Glasgow Airport, before later being donated to Renfrewshire's civic collection. Campbell was hugely successful and made an extraordinary impact on New York's art scene in the 1980s and on his return to Scotland became a dominant figure in the renaissance of Scottish visual art.
Campbell's romanticised version of Glasgow, 'The Golden City', will be the single biggest painting on display at the refurbished Paisley Museum, when it reopens next year following a £45 million refurbishment.
Campbell, who was born in Glasgow in 1953, died from a ruptured appendix at the age of just 53 in 2007.
The Paisley Museum team recently played host to his Steven's wife, Carol and former art critic and family friend, Clare Henry, and Grainne Rice from National Galleries Scotland, among others, to see the two large panels at The Secret Collection – the UK's only publicly accessible museum store housed on a high street.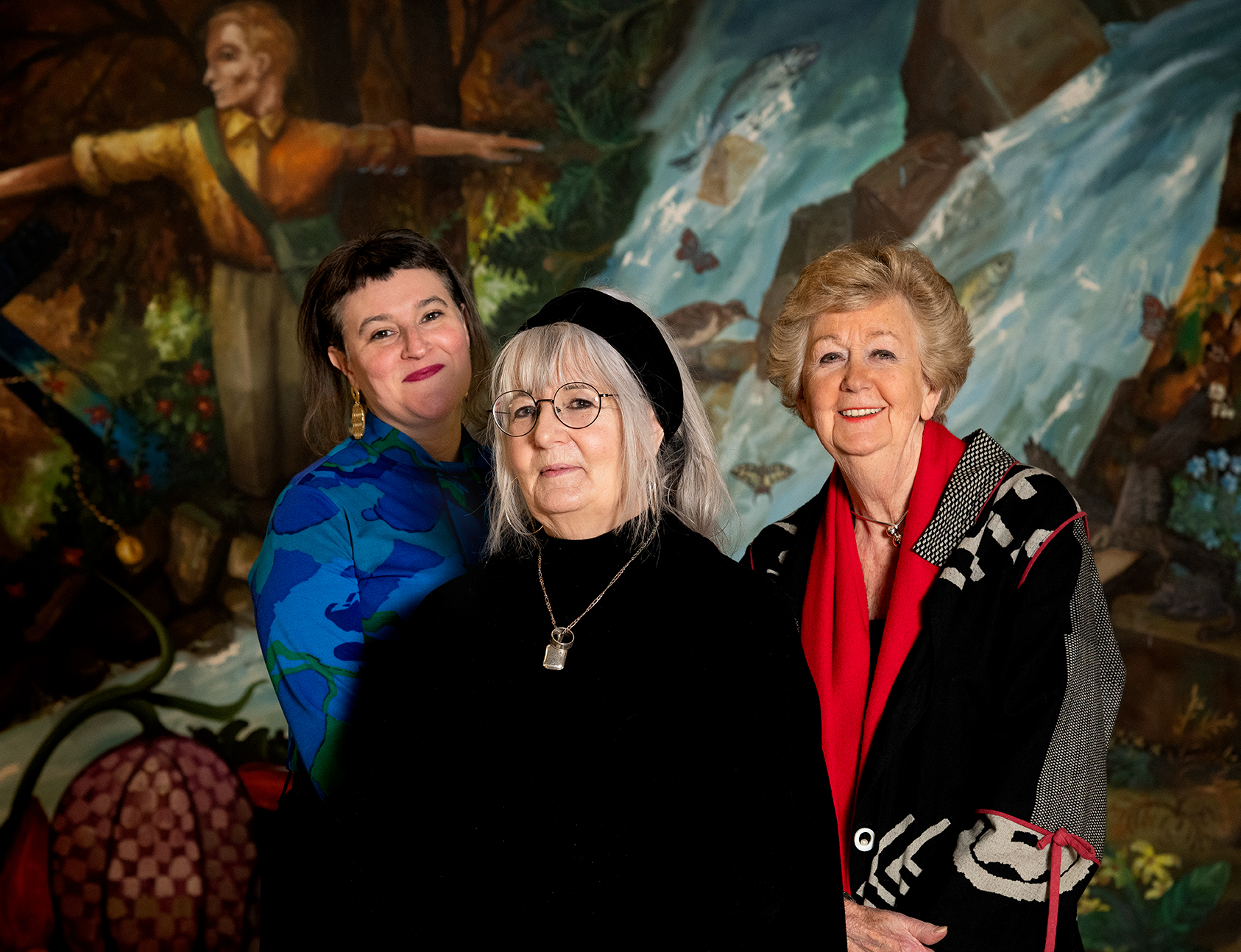 Photo: (left to right) Claire Henry, Carol Campbell and Grainne Rice visiting The Golden City at the Secret Collection on Paisley High Street
Photo Credit: HS Projects
Carol was thrilled to see the work brought back to life. She said: "It's always very emotional to see Steven's work, but at the same time it's really kind of life-affirming for me, because for these few minutes, he's kind of alive again and people are talking about him – it's a really good feeling."
In discussing the work in 1996, Steven said: "The painting is made up of three views of the City of Glasgow: the Clyde Estuary; the view from the countryside; and a view from the University Tower. The symbolism of the painting centres around the story of the emblem of Glasgow.
"It also takes account of St Mungo's stories, trying to give history a vision. I've aimed to get the balance between nature and the city; the 'Dear Green Place', idea. It's been tempting to add something dramatic, but it would have been the wrong thing to do for the location. It's not the place to be dark and moody. No way. I want people to be uplifted; invigorated. I love Glasgow!"
Campbell left Rutherglen Academy at the age of 16, he worked as a maintenance engineer at British Steel in Cambuslang, before going on to the Glasgow School of Art in 1978.
Ruth Aitken, who has been working on the project for OneRen, the charitable trust which will operate the refurbished venue, said: "Steven was a hugely influential painter, setting new standards, and helping to place Scottish art in an international context – paving the way for Scotland's rebirth as a global leader in contemporary visual arts.
"It's been a real joy to bring Carol and those who loved Steven and his work to contribute to what will be a spectacular display in our new museum – and I have no doubt The Golden City will bring joy to a new generation of art lovers."
Clare Henry, former art critic at the FT, Scotsman and Herald, said: "I saw it when Steven was painting it, which was up in this barn in very chilly Perthshire a year before it went up on display in the airport.
"It's one of Steven's pictures done at the height of his powers, when he was aged 42 and showing in New York. It's a very optimistic painting. He loved nature and he loved Glasgow, and he has the two aspects here of his great passions. It's an idealised version of the city with a golden glow, a romanticised version.
"I'm delighted it's going back on public display."
Ronald Leitch, Operations Director at Glasgow Airport, which originally commissioned the work, said: "It is a stunning piece of art and was a popular fixture at Glasgow Airport for many a year.
"I've worked at the airport for over 23 years and remember fondly how Steven Campbell's incredible work would almost always draw the attention of passengers and staff alike as they travelled through the terminal.
"Being a Paisley boy, I'm also glad to see that The Golden City work will have pride of place in the town's museum following its extensive refurbishment and will be enjoyed by generations to come."
Carol is equally pleased with the work that's being done to bring the new life to her husband's work. She added: "I know how proud he would be to see his work going back on public display, he would be loving this.
"Steven was rooted in the industrial. but he always had a real love for the countryside. I think there's the acknowledgement of the industrial quality of the city, but it's seen from afar, with a golden, idealised light, rather than the harsh reality.
"I'm absolutely thrilled that it's going back on display in the refurbished museum – I couldn't be happier for people to come and enjoy it in what is going to be such a beautiful building that will attract international attention.
"I know he'd be really proud and very, very happy."