The founder and CEO of a charity dedicated to the victims of stalking has been recognised as part of University of the West of Scotland's (UWS) winter graduations.
Ann Moulds, who established the charity Action Against Stalking in 2014, was celebrated as part of a ceremony taking place at Paisley Abbey today.
Through her work, Ann has changed stalking laws in at least 50 countries, after setting up the charity following her own experience.
Ann, who also runs her own psychotherapy business, was crowned Scotswoman of the Year in 2013 for her pioneering work in the field of anti-stalking legislation.
Thanks to her efforts, tougher sentencing was introduced in Scotland and the rest of the UK quickly followed.
The charity now has 10 employees and runs an annual awareness week, which staged the world's first ever international conference on abusive behaviour.
In another groundbreaking move, the charity partnered with UWS to set up a dedicated Centre researching harmful behaviours.
Professor Laura Kilby, from the Division of Psychology and Social Work within the School of Education and Social Sciences at UWS, in delivering Ann's citation, outlined her inspirational career to date and her commitment to ensuring that victims of stalking have a voice.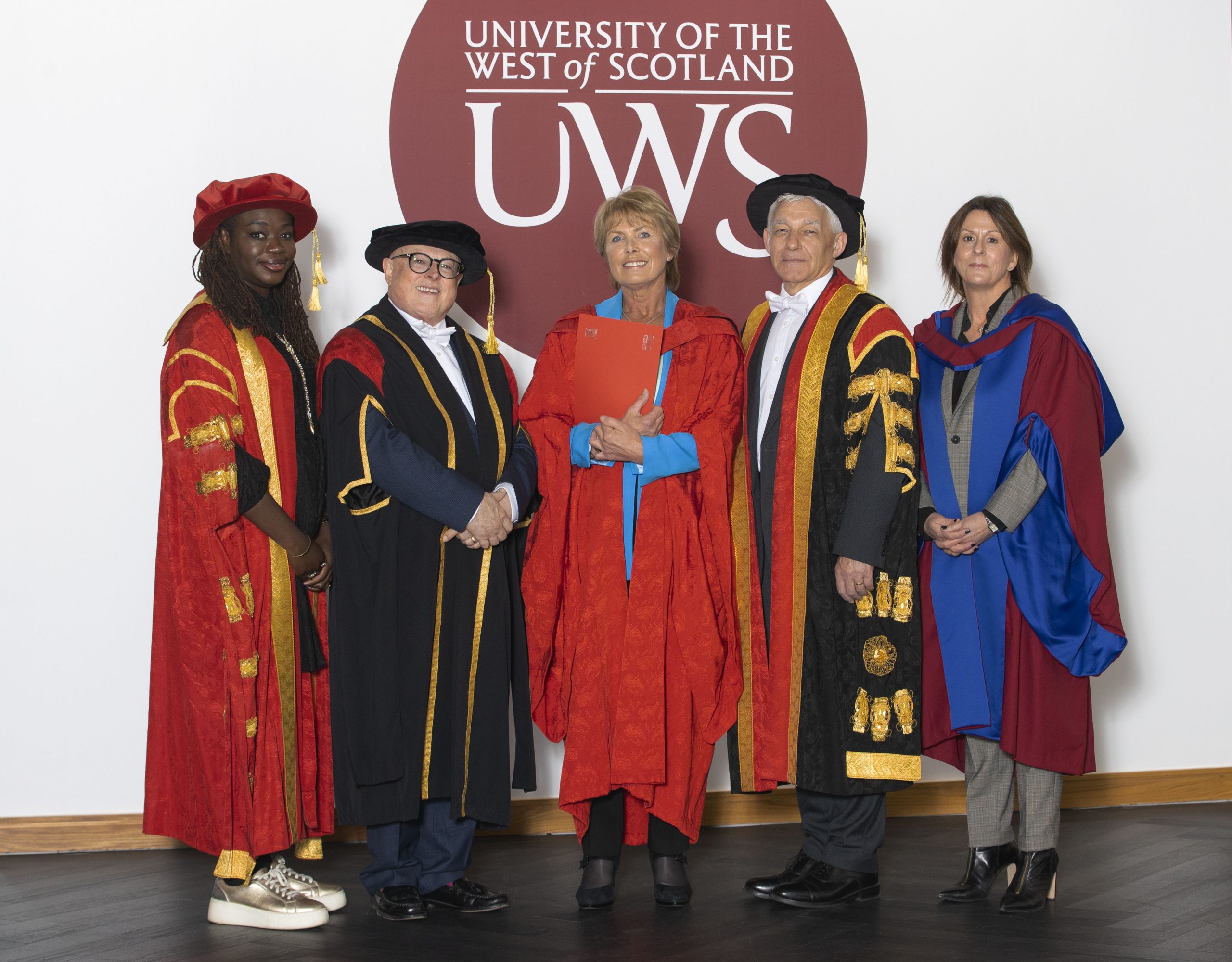 Photo: Ann Moulds from Action Against Stalking has received an Honorary Doctorate from UWS
Photo Credit: Alan Harvey / SNS Group
Discussing her Honorary Doctorate from UWS, Ann said: "It is an honour to receive such a prestigious award and it triggers within me a deep humble pride.
"A pride in what I have achieved over the past 14 years, a pride in my ability to achieve it, a pride in never losing sight of my vision when the going got tough and a pride in fulfilling my pledge to the victims I chose to represent, and lastly it has been a humbling experience, to understand how many of my achievements came from the inspiration, collaboration and support of so many other people, colleagues family, friends, past and present members of Action Against Stalking.
"Lastly, to the University of the West of Scotland for sharing in our vision and help drive forward change that will help make this world, this country, and our communities a safer place to live. This honour is also in honour of you."
Professor James Miller FRSE, Principal and Vice-Chancellor of UWS, said: "Graduation is the pinnacle of the University calendar. It gives us the opportunity to both reflect on the amazing achievements of our students and to celebrate this most important of milestones with their friends and families, as well as the whole UWS community who have supported them throughout their time at university.
"We are delighted to present Ann with this Honorary Doctorate, for her inspirational work in supporting those who are victims of stalking. As evidenced through our partnership to create the Centre for Action Against Stalking, the University is deeply committed to the causes Ann has championed throughout her career."
Headline Photo: Ann Moulds from Action Against Stalking 
Photo Credit: Alan Harvey / SNS Group