Scotland's Minister for Higher Education and Further Education, Youth Employment and Training has officially opened the country's first dedicated complex needs college in a major education milestone.
Staff and students at Corseford College welcomed Jamie Hepburn today to formally open the facility with the unveiling of a dedicated plaque to mark the momentous occasion.
After the initial ceremony, the minister was given a tour around the college visiting the campus's hydrotherapy pool and rebound rooms and met a number of the 15 students enrolled at the college as they completed their daily activities alongside the dedicated support team and lecturers.
Hepburn praised the pioneering project and pledged his support for future developments.
He said: "It has been an absolute privilege to officially open the doors to Corseford College and learn more of the students' experiences so far.
"I look forward to learning the lessons from this innovative pilot and exploring how we can better support young people of all abilities to be given access to opportunities in further education."
The college opened its doors to students in September 2022 and is midway through its inaugural year.
One student who has benefitted enormously from the facility is 18-year-old Owen Robertson from Bridge of Weir, Renfrewshire. Owen is a care-experienced, complex needs student who exhibits challenging behaviours that prevent him from being able to attend a vocational programme in a mainstream further education college.
Since attending the college, Owen's guardians have experienced a remarkable difference in his behaviour. Owen now wakes up eager and keen to attend the college, when previously mornings were an extremely difficult and stressful time.
Since joining the college, Owen has had opportunities to work with different types of technology, which he really enjoys. He has also been able to improve his problem-solving, literacy and numeracy skills, where he was able to help his House Group to win the 'House Team of the Month Award.
Owen said, "I like going to College, I want to be independent, get a job, and have money."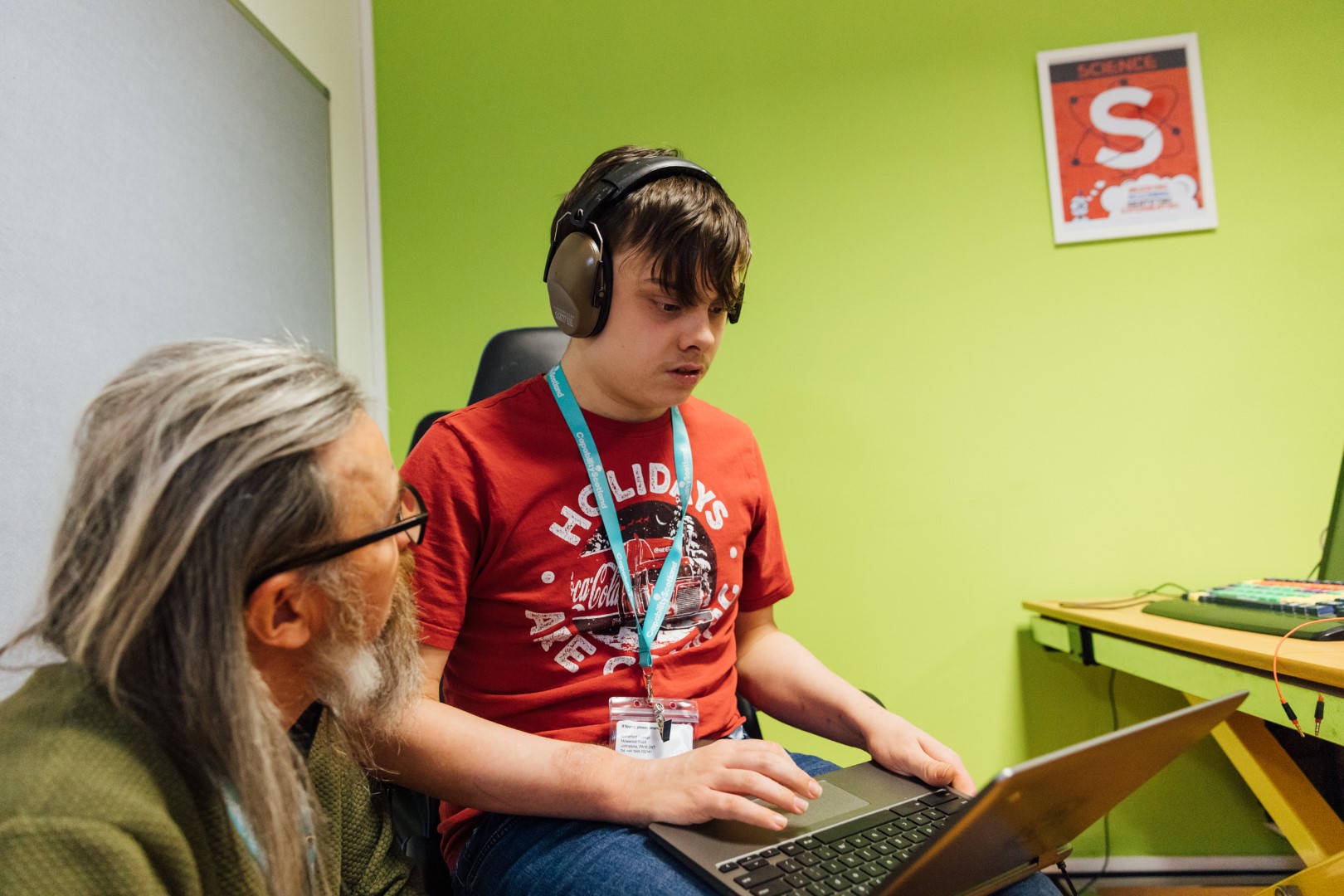 Headline Image: Corseford College student Owen Robertson
Photo Credit: Capability Scotland
The Scottish Government and the Scottish Funding Council [SFC] has pledged £316,000 (Young Persons Guarantee) in partnership with West College Scotland towards the project throughout its first year of delivery, which has been developed and operated by education, care and support charity, Capability Scotland.
Based in a refurbished wing of the charity's existing Corseford Campus, near Johnstone in Renfrewshire, Capability Scotland has also invested a further £250,000 in creating this state-of-the-art facility.
It is hoped Corseford College will be the first in a series of campuses around Scotland that will fill the nation-wide void in further education opportunities for those whose needs cannot be met in mainstream further education colleges.
Head of Corseford College, Liz McConnachie, said: "The grand opening marks an important milestone in ensuring further education opportunities for students of all abilities in Scotland, access to education should be based on the ability to learn. Every young person in Scotland should have an equal chance regardless of their background or circumstances.
"Jamie Hepburn's endorsement of Corseford College is a significant moment for not only this campus, but the prospect for future sites all around the country.
"Now is the time to act and invest in our young people. This is a long-standing issue that's been well evidenced and documented in research, policy and consultations. Those with complex needs want to have a voice, a social life and to be involved as active valued citizens however unfortunately many don't get the support they need to achieve this.
"Investment in these young people will be positively received, it will in turn help build a stronger future for Scotland."
Corseford College has developed close multi-agency partnerships that directly shape individual student support, personal care and the meaningful learning programmes being delivered. This integrated approach provides real examples of meeting every students' individual needs and aspirations with a range of subjects on offer including literacy, numeracy, life skills, tech skills and mixed media as well as working with others and health and wellbeing.
The main social hub of the college is the student bistro. The campus also offers sensory suites, a specialist hydrotherapy pool, rebound therapy and has extensive grounds providing great outdoor learning spaces.
The college is playing a key role in assisting the Scottish Government in delivering on its Young Person's Guarantee, which pledges to connect every 16-24-year-old with a job, apprenticeship, further or higher education, training or other opportunities through a partnership with West College Scotland.
Capability Scotland, which celebrated its 75th anniversary in 2021, plans to increase the college's cohort to 25 students in next year's intake.
Founded in 1946, Capability Scotland has always strived to be a major ally in supporting disabled people to have full equality of opportunity and participation as citizens of Scotland.
It now provides direct support to more than 800 individuals through day and residential schools, residential care, housing support services, home care and a range of day opportunities in the community and local Capability Scotland hubs.
To view the full Corseford College prospectus, please visit: https://www.capability.scot/about/publications-newsletters/462-corseford-college-prospectus.
The new college can be found at Howwood Road, Kilbarchan, PA10 2NT
Headline Image: Student Ali Chaudrey and Minister for Higher Education and Further Education, Youth Employment and Training Jamie Hepburn
Photo Credit: Capability Scotland