Workplaces, schools and community groups across Renfrewshire joined the UK's biggest conversation on mental health stigma on Thursday 2nd February as part of Time to Talk Day.
Time to Talk Day is a day where friends, families, communities, and workplaces can come together to talk, listen and change lives. The campaign helps break down barriers and reduce the stigma which prevents so many from asking for help when they need it.
Despite increased awareness of mental health in Scotland, research released to mark this year's Time to Talk Day showed that the campaign is still needed. A poll of over 1000 Scots showed that three in five think the cost of living crisis has had an impact on their mental health, but a third admitted that they never make space in their day to talk about mental health.
When asked what makes it difficult to talk about mental health, respondents to the survey said not wanting to 'bother people' as there are 'bigger issues', worrying about being judged and not knowing how to bring it up were all reasons people find it difficult to start a conversation. See Me, the national programme to end mental health stigma and discrimination, in partnership with Co-op, led the campaign in Scotland.
After two years of online activity, this year's Time to Talk Day saw a range of activities and events take place across Renfrewshire, with workplaces, schools, community groups, sports clubs, friends and family joining in to get as many people as possible talking about mental health.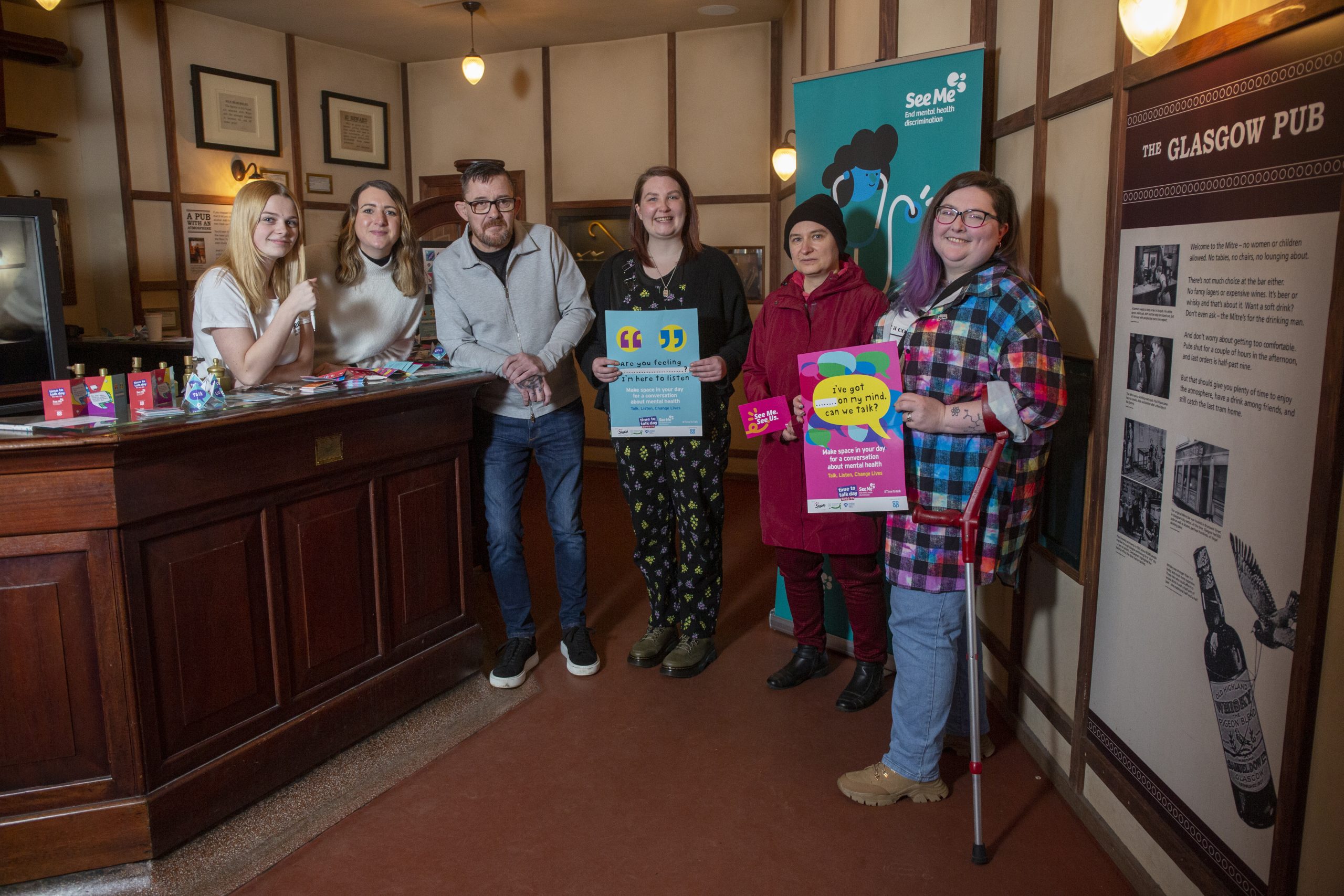 Photo: See Me staff and volunteers at the official Time to Talk Day event
Photo Credit: See Me Scotland
Employers seized the opportunity to tackle mental health stigma among staff, providing opportunities to talk about mental health and learn more about how stigma can affect people at work. Clark Contracts in Paisley hosted a tea and talk session for colleagues to get the conversation started in a less formal environment.
Gordon Cunningham, managing director of Clark Contracts, said: "It was great to see our employees come together to engage in conversations about mental health and help break down the stigma associated with this.
"With two people working in the UK construction industry dying by suicide every working day, we recognise the importance of providing our employees with continuous support and training to fully understand mental health in the workplace."
See Me volunteer spokesperson Zoe Mason says that campaigns like Time to Talk Day have an important role to play for people across Scotland.
She said: "Time to Talk Day is hugely important. Talking openly about our mental health is vital, and potentially life saving – we all have mental health, and we could all struggle with mental health at some point in our lives.
"We've come a long way in normalising the conversation around mental health, but a lot of stigma still exists for people struggling with their mental health, particularly for people with enduring mental health conditions.
"Making mental health part of our everyday conversation is a step towards reducing and getting rid of the stigma and discrimination that still exists around mental health."
See Me director Wendy Halliday said: "I have been so impressed all the support we had for this year's Time to Talk Day across Renfrewshire.
"Everyone has mental health, and any one of us can struggle with our mental health at one point or another. It's also crucial to understand stigma plays a role in opening up about how you're feeling. We want everyone to feel comfortable talking about mental health in a way that suits them."
Find out how you can continue to tackle mental health stigma beyond Time to Talk Day at www.seemescotland.org/SeeUs.