Shopmobility Paisley & District have held their annual AGM.
The AGM reflected the work of the charity on the year up to 31st March 2022, which saw the last of the Covid lockdowns, where they adapted their service model to ensure members were still supported – such as lifts to hospital and GP appointments, delivering shopping and prescriptions and even having scooters and wheelchairs available despite the office being closed.
At the end of that year Shopmobility used Funded Back to Work funding to take on two new staff, freeing up the office manager to focus on forward planning and fundraising.
Since then a lot has taken place which has seen the Paisley based charity go from strength to strength.
Shopmobility now have a full-time office manager as well as four staff employed via Funded Back to Work funding and have undertaken a major review of their services to plan a way forward, including investing in a social enterprise model where Shopmobility will begin to raise some of their own income rather than being solely reliant on grants.
The AGM was attended by all directors, staff and key volunteers as well as representatives from partner organisations including Engage, Invest in Renfrewshire and Darkside Historical Walking Tours.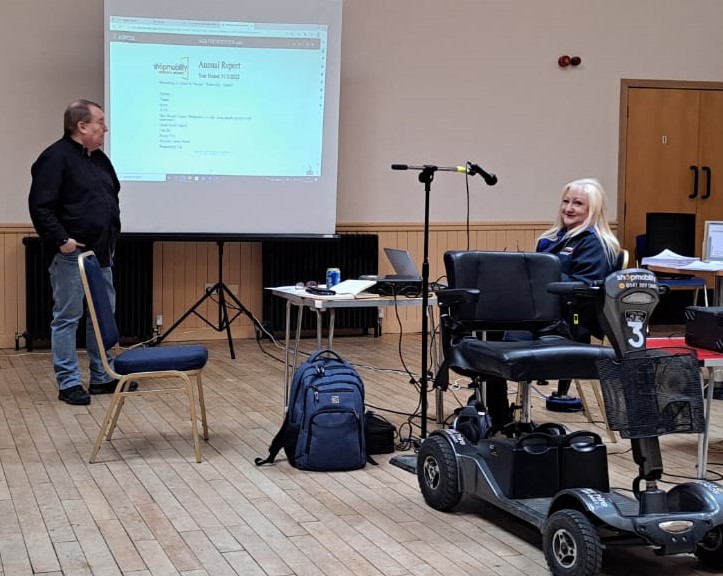 Kenny MacLaren, Chair of Shopmobility Paisley & District, said: "It was a great turnout for our Annual General Meeting which we held on Tuesday 28th February in the Wynd Centre, Paisley
"The AGM of any organisation is a good time for reflection, looking back at what we have achieved and focussing on the future. I'm proud of all the work carried out, especially from last July when we became more focussed on delivering a sustainable service to the people of Renfrewshire who need support to overcome mobility problems.
"I would like to thank our Office Manager Karen Miller for all her hard work, as well as all our other staff, my fellow directors and our volunteers and supporters of this organisation. And not forgetting the many funding organisations who have put their trust in our ability to deliver for this area. We are moving ahead with plans to provide an even better service to everyone in Renfrewshire."
Karen Miller, Office Manager of Shopmobility Paisley & District added: "We've had some great support from the various networks we are a member of, especially Renfrewshire Social Enterprise Network (RENSen) organised by Iain Cunninghame of Engage and Tania Moran of Invest in Renfrewshire and of course our connections with Shopmobility UK.
"Our focus this year is to progress our social enterprise, providing a mobility scooter repair service and to develop our satellite model where we have scooters and wheelchairs available from partner organisations across Renfrewshire.
"This year we will also be focussing on expanding not only our volunteer base but also our pool of volunteer directors. In doing this we want to build up the resilience within the organisation and make sure we continue in our journey towards making Shopmobility a social enterprise."