An active travel campaign that aims to reward physical activity and encourage people to leave the car at home has been hailed a success after reducing the number of car journeys in Renfrewshire by almost a quarter of a million.
Renfrewshire Council's Not Far? Leave the Car campaign saw more than 1,100 people take part in its first year, with participants carrying out more than 333,000 journeys on foot, by bike, or by public transport – with more than 238,000 of these replacing travelling on their own in a car.
Participants earn a 'BetterPoint' for every minute of walking, wheeling, cycling or running per day – up to 60 points – and can collect 15 points for up to four public transport journeys every day.
These points can be exchanged for discounts and money off at more than 100 local businesses – with over £5,000 was earned by participants through activity rewards and prize draws.
To encourage participation, those taking part could earn extra points for taking part in national events like National Walking Month (1–31 May) and Bike Week (6–12 June), as well as attending local events like the Paisley 10k and Fun Run and Renfrew Christmas Lights Switch-On.
Stephen Dock signed up to the campaign to get healthier, but it has transformed his life so much that he has now ditched the car for good.
Stephen said: "I had thought about using my bike to commute to work and had done it a few times over the winter. I then came across the campaign on social media and thought I should make a more concerted attempt at doing it because of the health benefits.
"After four weeks of this I had went from using my car daily to once per week. It was then I decided to ditch the car altogether. The end result is now that I have sold my car and now only use my bike and public transport.
"I think I have now made the leap and changed my behaviours for good. The fact that I no longer have the car has opened my eyes to how easy it is to still get through my week without it but to also have the added benefit of saving money, getting healthy, being a role model to my sons and helping the environment. I don't see me reverting back anytime soon."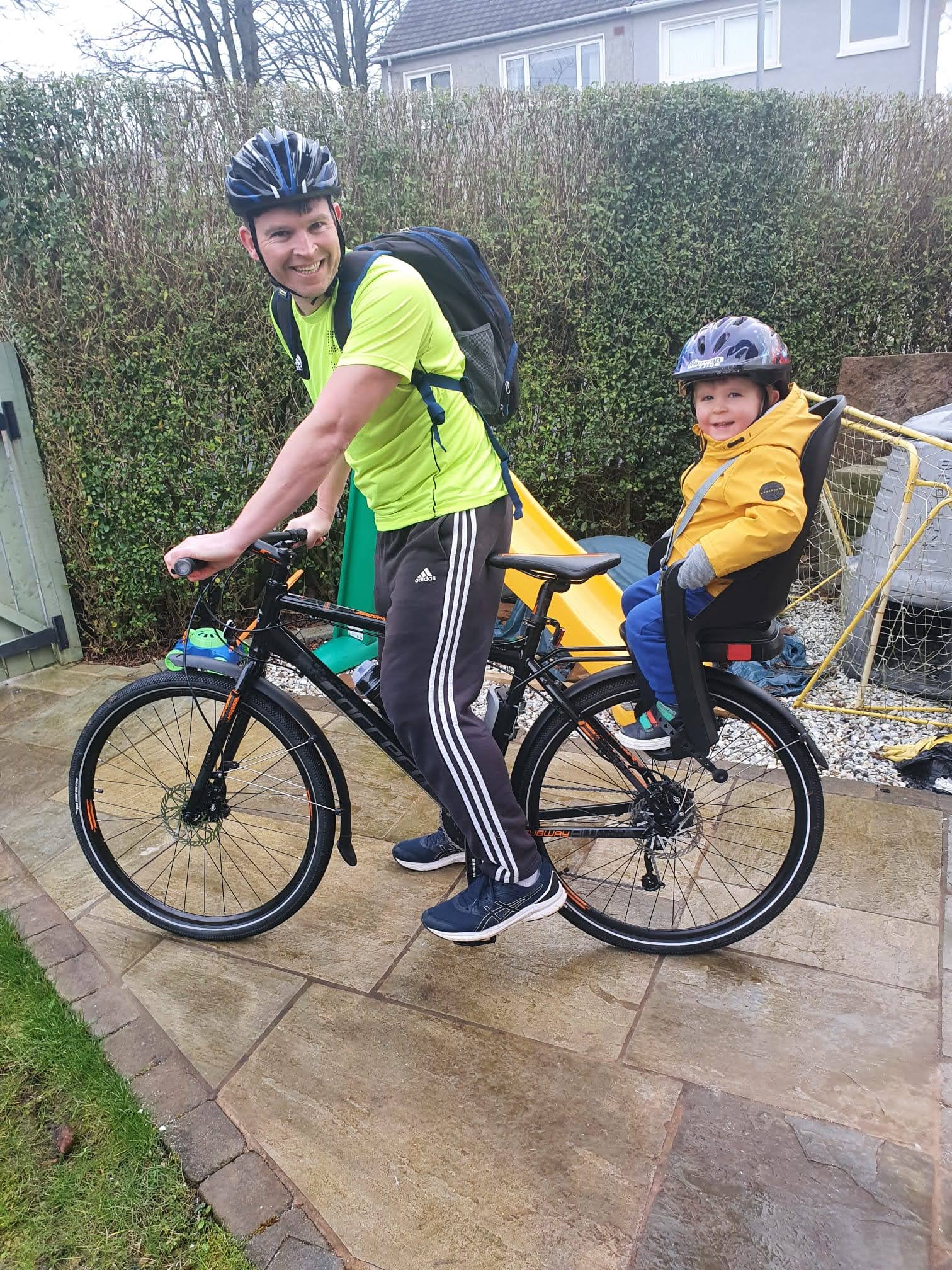 Photo: Stephen Dock and Jude
Photo Credit: Renfrewshire Council
As the council works towards becoming net zero by 2030, the campaign has saved 79 tonnes of carbon emissions as local people chose to use active travel methods for short journeys.
Councillor Michelle Campbell, Convener of Renfrewshire Council's Infrastructure, Land and Environment Policy Board, said: "Leaving the car at home for short journeys and stepping out of that convenience is so important as we try to encourage people to live healthier lifestyles and make smarter choices.
"This campaign has been hugely successful in supporting people to leave the car at home and stopping 238,000 car journeys is a great step forward as we aim to reduce our carbon emissions and work towards becoming net zero by 2030.
"With 75% of people taking part saying they are more likely to walk or cycle now, it's a great outcome and I would encourage anyone to sign up and take part if they aren't already."
The project has been funded by the Scottish Government's Air Quality Fund and its Smarter Choices, Smarter Places Fund.
For more information, and to download the free app to sign up, visit www.renfrewshire.gov.uk/leavethecar.
Headline image: National Cycle Route in Renfrewshire
Photo Credit: Renfrewshire Council