Improving social connection and reducing isolation are two of the biggest outcomes from Renfrewshire's Winter Connections programme according to a report presented to politicians at Renfrewshire Council's Fairer Renfrewshire sub-committee today.
More than 1,800 people attended activities and events put on by the 35 community groups and organisations involved in the Winter Connections programme.
In addition, almost 2,000 people attended OneRen libraries for board game and community jigsaw sessions over the winter period.
The evaluation revealed that all community groups and organisations involved felt that the activities and events in the programme had connected people to each other.
Ninety percent also said new people had been encouraged to come along and that the activities had created a sense of belonging in their local community.
One library visitor said: "I really enjoyed these classes as it got me out of the house and gave me a social life. I got to meet new people and do crafty stuff. It was very therapeutic."
A Tannahill Centre attendee added: "I went every day. It was really handy and I also accessed the community market. I used it to get a heat and see pals. I saved money, met people. It was like being in a café without having to spend money."
In total, £70,000 was allocated by Renfrewshire Council to groups and organisations to deliver their Winter Connections activities and events. OneRen were also allocated £10,000 in funding to support the library activities.
Councillor Jacqueline Cameron, convener of Renfrewshire Council's Fairer Renfrewshire sub-committee, said: "The success of the Winter Connections programme is a testament to the amazing work local groups and organisations do for our communities. They are already bringing people together and it was great to see how their activities encouraged more people to attend.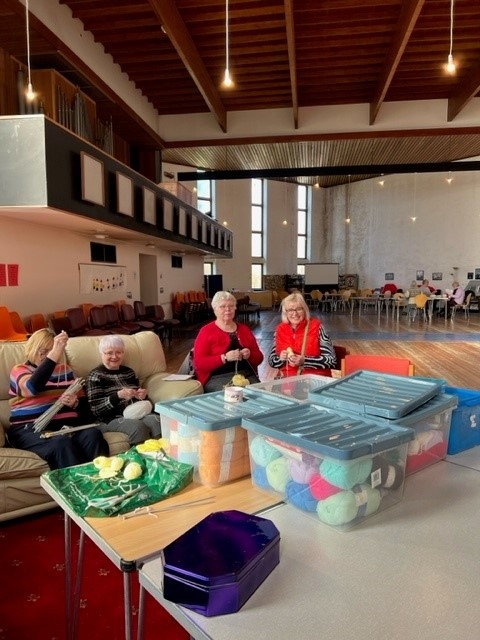 Photo: Crafts at Paisley St George Outreach Centre
Photo Credit: Renfrewshire Council
"Tackling social isolation is vital as we all know the impact it can have on wellbeing and mental health. By providing more than just a space for people to come along, our local groups have helped people to make friends as well as learn new skills and be creative.
"It's also about helping people during this cost-of-living crisis to find support in a discreet and dignified manner. These groups are an excellent resource that allow people to talk about the issues they are facing in a safe, supportive and non-judgemental environment."
Anyone looking for help and support can visit www.renfrewshire.gov.uk/cost-of-living, make an appointment with the council's Advice Works team by emailing adviceworks@renfrewshire.gov.uk or calling 0300 300 1238 or make an appointment with Renfrewshire Citizens Advice Bureau by visiting www.renfrewshirecab.org.uk or calling 0141 889 2121.