Around 4,000 Renfrewshire pupils have found out their exam results and wider qualifications as texts, emails and letters arrive from the Scottish Qualifications Authority (SQA) came in yesterday.
This is the second year that pupils have sat exams following alternative models used in 2020 and 2021 due to the pandemic.
Owen McCarrey from Johnstone High School is one pupil celebrating. He's chosen to take an alternative route to university by starting as a graduate apprenticeship in business because he wants to learn on the job.
He said: "I will be able to grow my skills working four days a week and also learn the theory on Fridays as day release to university.
"I will be learning, earning and putting my theory into practice before I have finished my degree."
Owen's love of business began after he took the subject in third year, but it flourished when he joined a Young Enterprise initiative where he won a Managing Director of the Year award.
He explained: "There were 16 of us involved in the Young Enterprise challenge and we decided to make our own sustainable product using old t-shirts to create tote bags because it would help get rid of plastic bags, re-use something that might otherwise have been discarded and there was little cost to making them.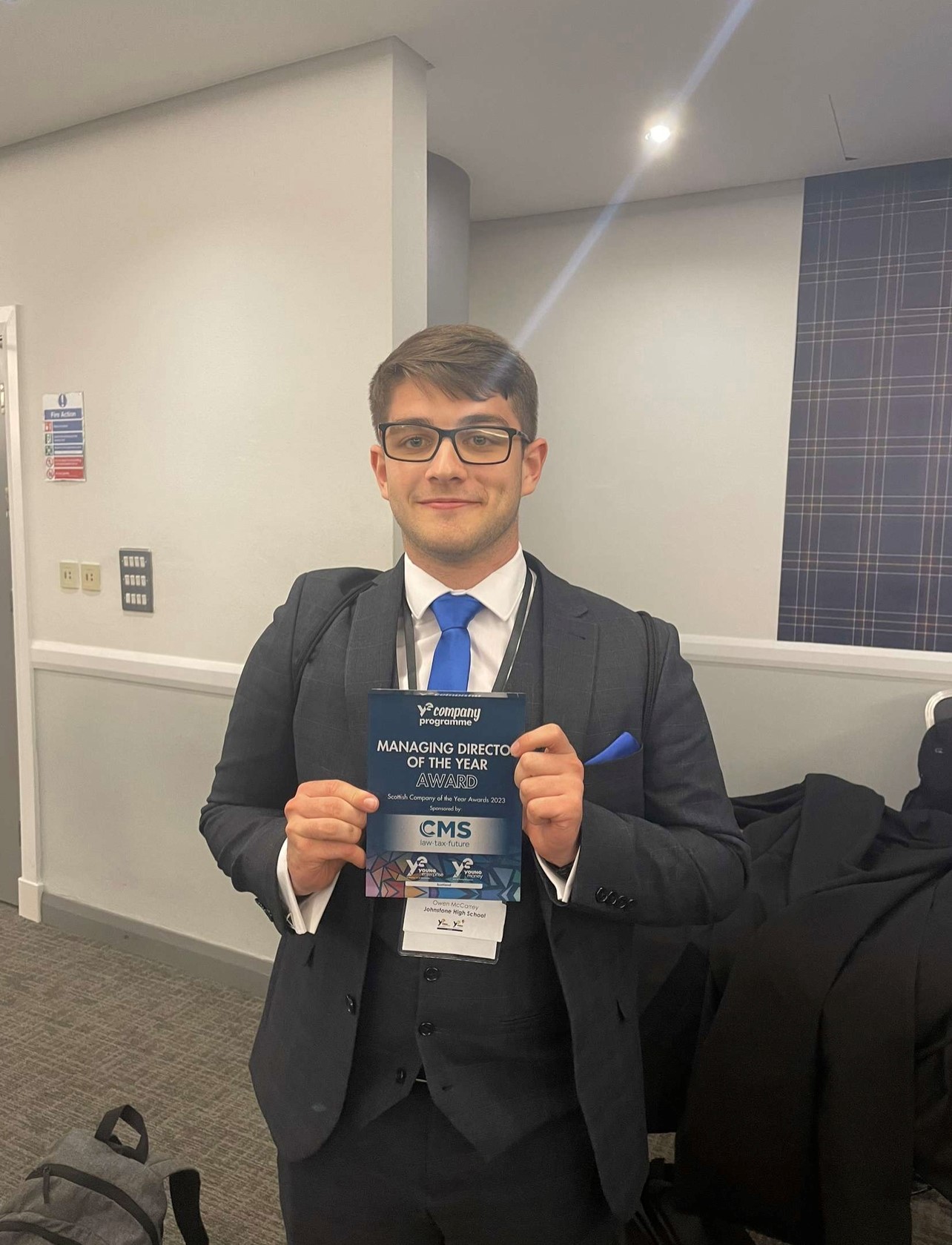 Photo: Owen McCarrey with his MD award
"We did really well and ended up winning six out of seven awards at the Renfrewshire finals and got four national awards at the Scottish finals, including the Managing Director award I received.
"I got the chance to do the Young Enterprise challenge because I stayed on for sixth year, and it really helped me decide that I wanted a career in business. Before, I had been considering computing, but I feel like I've made the right choice. I like business because everything is always changing. You are never doing the same thing twice and everything links together. It's also all about people. I really enjoy talking to people, working with people. I am a real people person."
Owen said his teachers have been vital in helping him into his chosen career.
And he wants to encourage more pupils to think about alternative pathways, like apprenticeships.
He added: "Don't go with the normal. There is more than just going to university or college. There are plenty of apprenticeships out there and always something that will work for you. It can feel scary but go for it. I can't think of anything better to go for."
Johnstone High School achieved a gold ambassador award for their work to equally promote academic and vocational career pathways, such as going to university or college, starting up an apprenticeship or going into the workplace.
Castlehead High alumni Jamie Johnston is currently in third year at university studying graphic design, going to college first helped him decide what he wanted to do.
He said: "I didn't know what career I wanted to get into at school. I was very lucky to have teachers who collectively gave me a push towards graphic design when I was in sixth year.
"It was always something I enjoyed but I wasn't very confident in my work. My teachers instilled the belief in me that I could apply for college, which then lead me to university."
While Jamie has been studying, he's also been building his own career designing merch and branding materials for Scottish bands.
He explained: "My name is getting out there through word of mouth that I can design work for their gigs, for CD covers, and merch. I've been creating whole packages of themed work for them.
"The first musician I worked with was Johnny Madden with his Baby Strange punk band from Glasgow. He liked what I did and is in Callum Beattie's band, so he passed on my name to him.
"Working with Callum was amazing because it was the first time that I was working with people from a major record label. Emailing people in Sony Music was exciting and something I'd never done before. I learned a lot from that work and it really helped me develop confidence in my own creativity.
"I continue to do a lot of work in the Glasgow music scene, particularly punk and indie music, but I dedicate most of my time to my studies. I feel like I am still learning and that my course will help me develop my skills."
Jamie said going to college first was the right choice for him, and he would encourage other young people to consider it.
He said: "Going through this route hasn't been as intense as it would have been if I had gone straight to university at the end of school. I've gotten benefits from taking my time and now I understand what I want to do. Don't feel like the world ends if you don't go to university or that you have to make up your mind before you leave school because that is so not the case."
Castlehead High School have a joint partnership with Glasgow School of Art through Castlehead School of Creativity to support young people to learn by developing their art and creative skills.
Councillor Emma Rodden, convener of Renfrewshire Council's Education and Children's Services Policy Board, said: "I want to congratulate all students on their results and achievements. Whatever they are, you have worked hard and I hope you can recognise the effort you made to get them.
"Many of you will have achieved what you wanted to, but for anyone who is disappointed with their results and are now unsure what to do, there is help and support available.
"There are so many career routes open to young people, including staying on at school, going to college or starting an apprenticeship. I would encourage young people to speak to their school for advice or call the Skills Development Scotland exam results helpline to talk through their options.
"Knowing that there is no wrong path is important. Each journey into a chosen career is unique and it's vital we support these individual journeys to ensure young people can meet their ambitions and have the best start in life."
Any young people looking for advice can call Skills Development Scotland's exam results helpline on 0808 100 8000. It's open today between 8am and 8pm, and on Thursday and Friday between 9am and 5pm.