Renfrewshire primary school pupils are getting a taster of Scotland's national sport ahead of the Royal National Mòd coming to Paisley this week.
The popular game shinty, most widely played in the Scottish Highlands, has been rolled out to four schools in Renfrewshire for pupils to try out the sport, which shares similarities with hockey and the Irish game, hurling.
More than 100 pupils from West, Arkleston, Newmains, and Kirklandneuk Primary Schools have opted to take part in the 6-week taster block delivered by OneRen Active Schools coaches. The aim is to promote the sport by making it more accessible for young people while giving them the opportunity to learn new skills and work as a team.
After the initial block pupils will get the opportunity to continue shinty lessons and it may be rolled out to more schools in the area.
One of the schools participating in the trial, West Primary, is also home to Renfrewshire's Gaelic School which has just marked the first anniversary of its opening. By taking part in the shinty, sessions pupils are continuing to embrace Gaelic language and culture.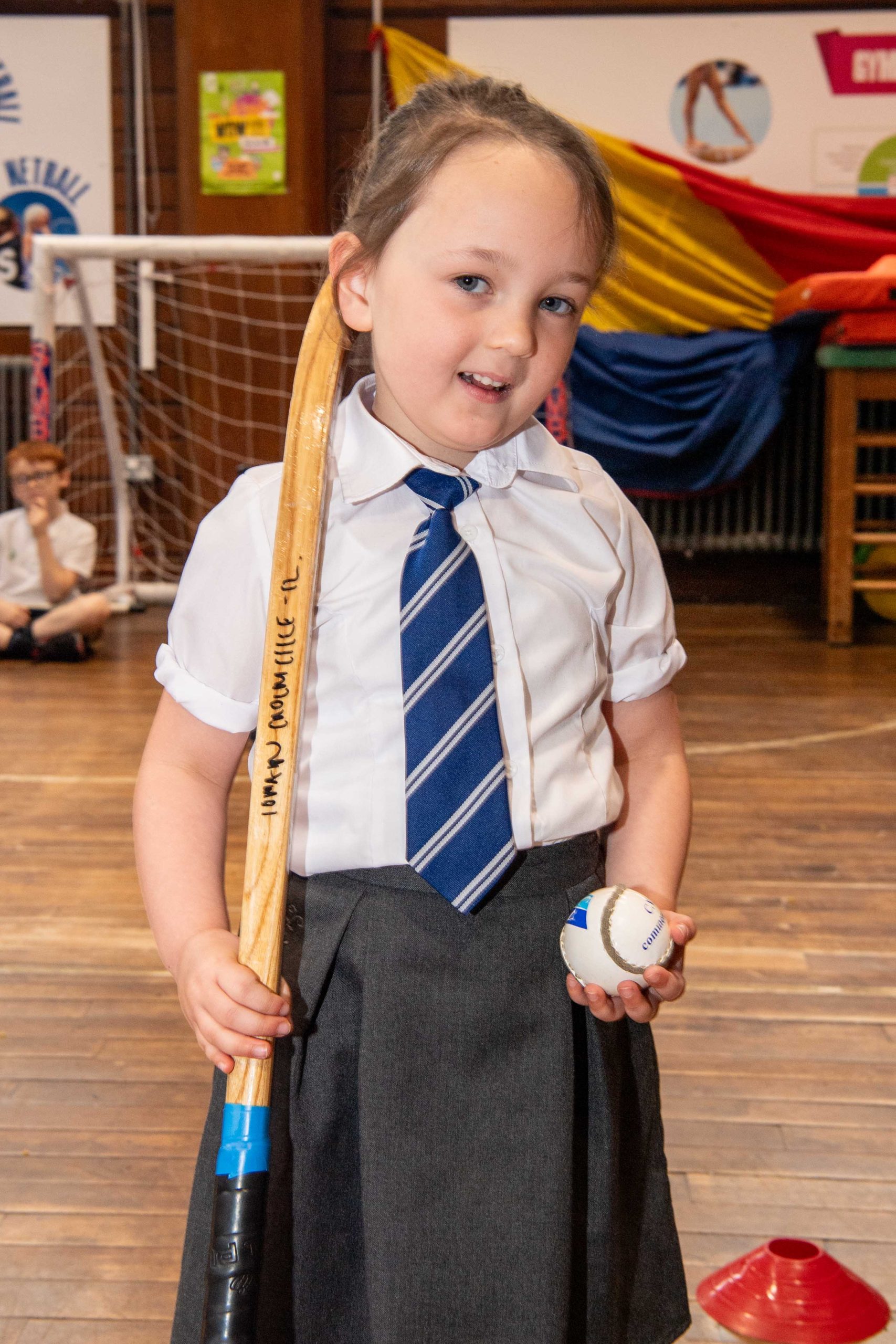 Photo: West Primary's Kirsty Macdonald from primary 1
Photo Credit: Renfrewshire Council
Laura Isdale, age 9, said: "I've really enjoyed learning how to play shinty. I really like how we get to work together as a team and it's quite different to other sports I've tried. I'd like to learn more skills and maybe even play a match."
The timing of the lessons could not be better as Paisley gets ready to welcome the Royal National Mòd, Scotland's premier celebration of Gaelic music and culture to the town. A popular element of the festival is the Mòd Shinty Cups which will be played on Saturday 14 October at King George V Pitches, Renfrew.
Professional shinty players Cameron Middleton of Strachur-Dunoon and Rory MacDiarmaid of Glasgow University visited pupils from West Primary School Gaelic class and Primary 5 pupils to see how they were enjoying training. They even brought along some of the trophies the shinty teams will be competing for during Mòd Phàislig.
After the visit Cameron said: "It's great to see the kids react with so much enthusiasm to learning the sport given they have just started learning how to play. I hope they continue with it – it's really important to get as many young people involved in the sport as possible and I hope some of them think about coming along to watch the shinty matches taking place at the weekend."
Connor Dell, age 9, said: "It's been really fun learning how to play shinty. It's a bit different to sports like hockey and it's something I'd like to play more of. I really enjoyed meeting the shinty players and finding out more about the game."
West Primary School Headteacher, Lynne McGinn, said: "Offering shinty to pupils allows us to embrace all different sports in Renfrewshire schools which pupils may not have tried before. With a major sporting event in Renfrewshire like the Mòd Shinty Cup, this could spark them to take part further."
Chair of OneRen, Councillor Lisa- Marie Hughes, said; "It's great to see so many of the pupils enjoying the shinty taster sessions. By introducing young people to the sport at an early age it can foster a genuine passion for the sport and make them more open to try something new.
"By bringing events like the Royal National Mòd to the town we want people of all ages to have the opportunity to get excited about Gaelic culture and sport and the Mòd Shinty Cup and other activities taking place during the festival offer the perfect opportunity for everyone to get involved."
Paisley has a long history with the national sport which goes back over 160 years. The Paisley Football and Shinty Club was founded in November 1855. The sport captured Paisley's imagination and resulted in thousands of spectators going to watch matches at the time. The hope is that through introducing the sport to more young people a genuine interest and passion for the game will grow and more people will want to play it.
Mòd Phàislig, organised by An Comunn Gàidhealach, is expected to bring thousands of visitors and competitors to Renfrewshire for the nine-day festival which will take place at venues across Paisley town centre from Friday 13th – Saturday 21st October.
To find out more please visit, www.modphaislig.com.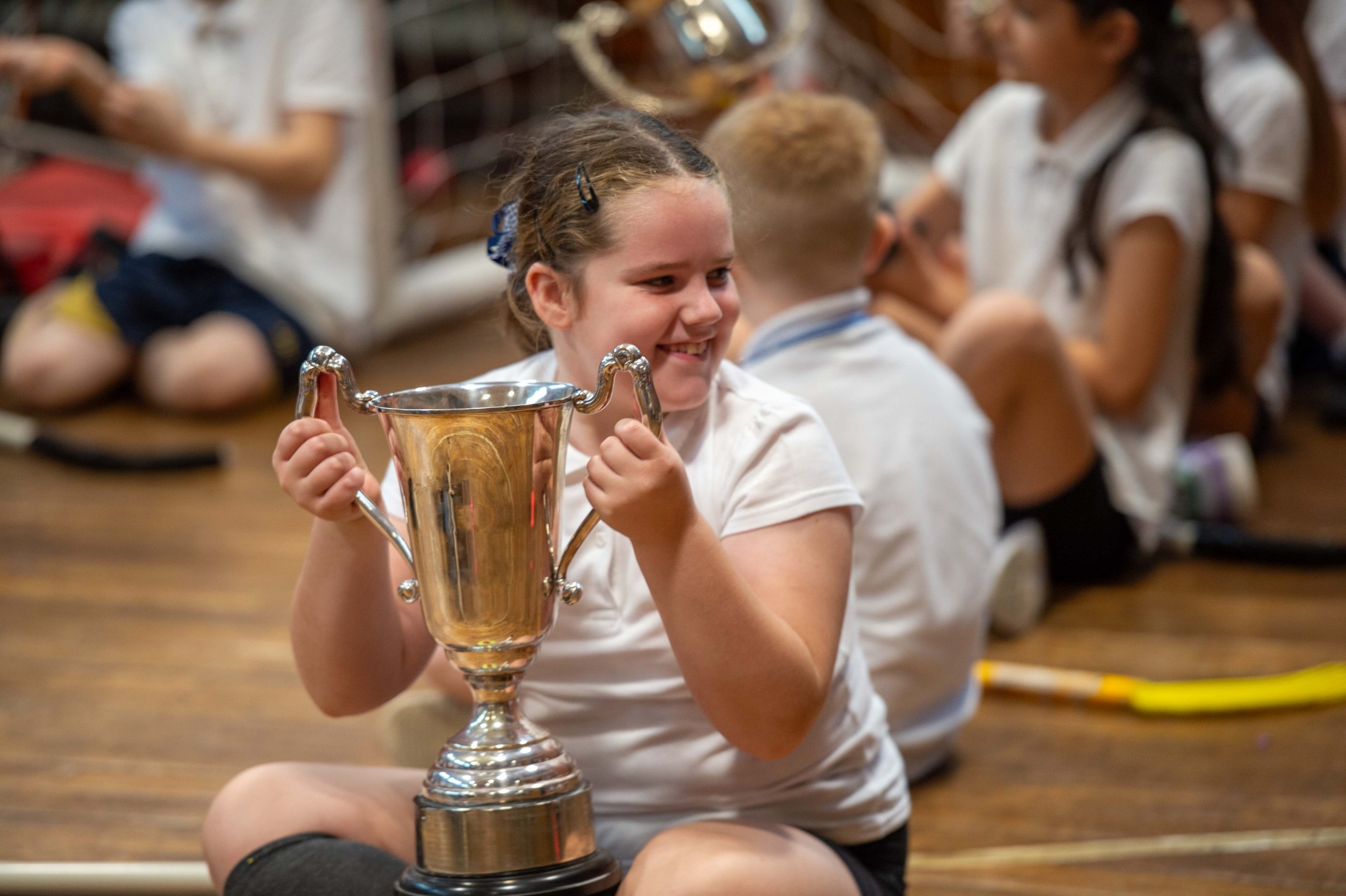 Photo: West Primary P5 shinty lesson and Mod Shinty cup
Photo Credit: Renfrewshire Council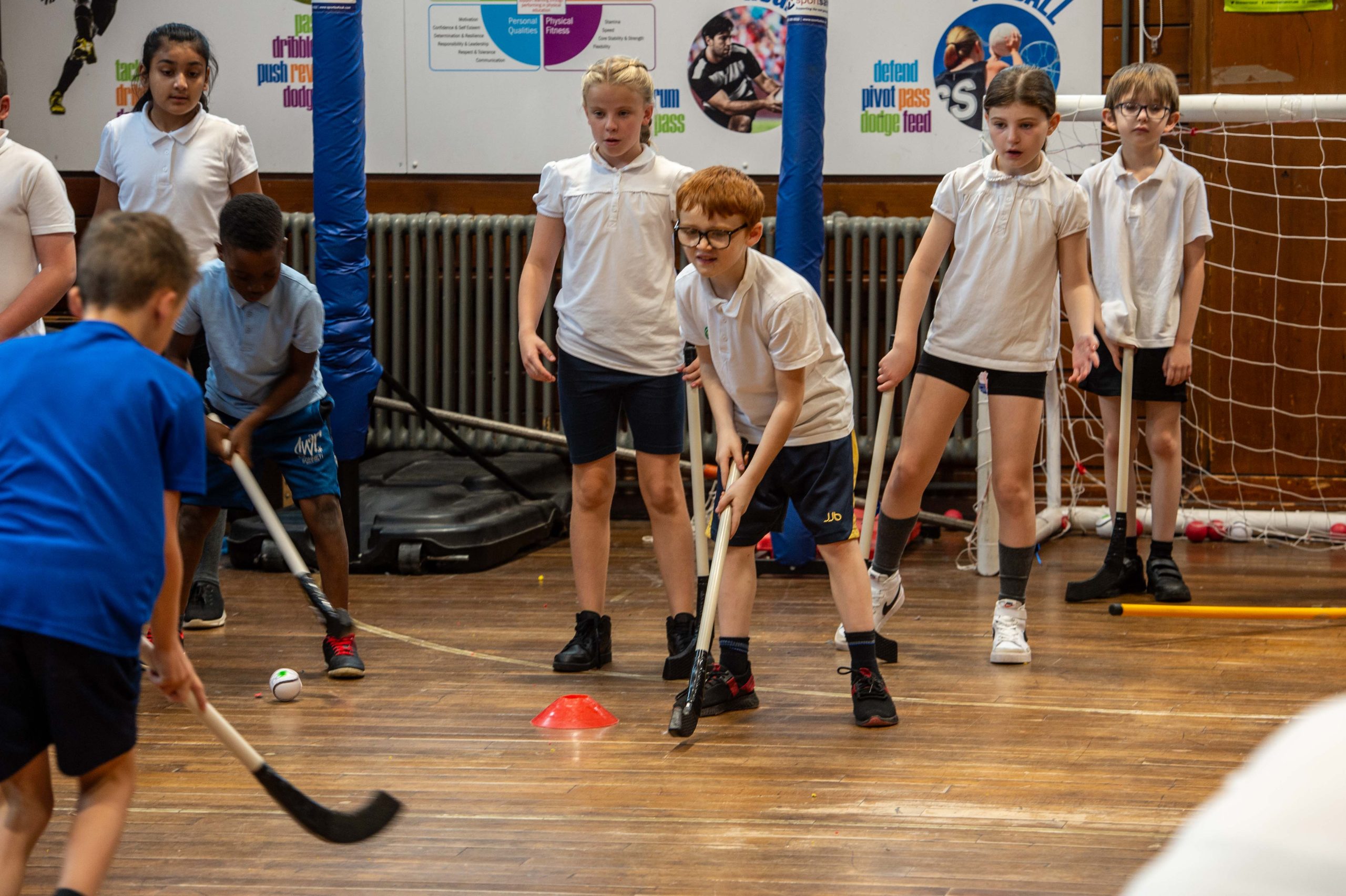 Photo:  P5 shinty lesson at West Primary
Photo Credit: Renfrewshire Council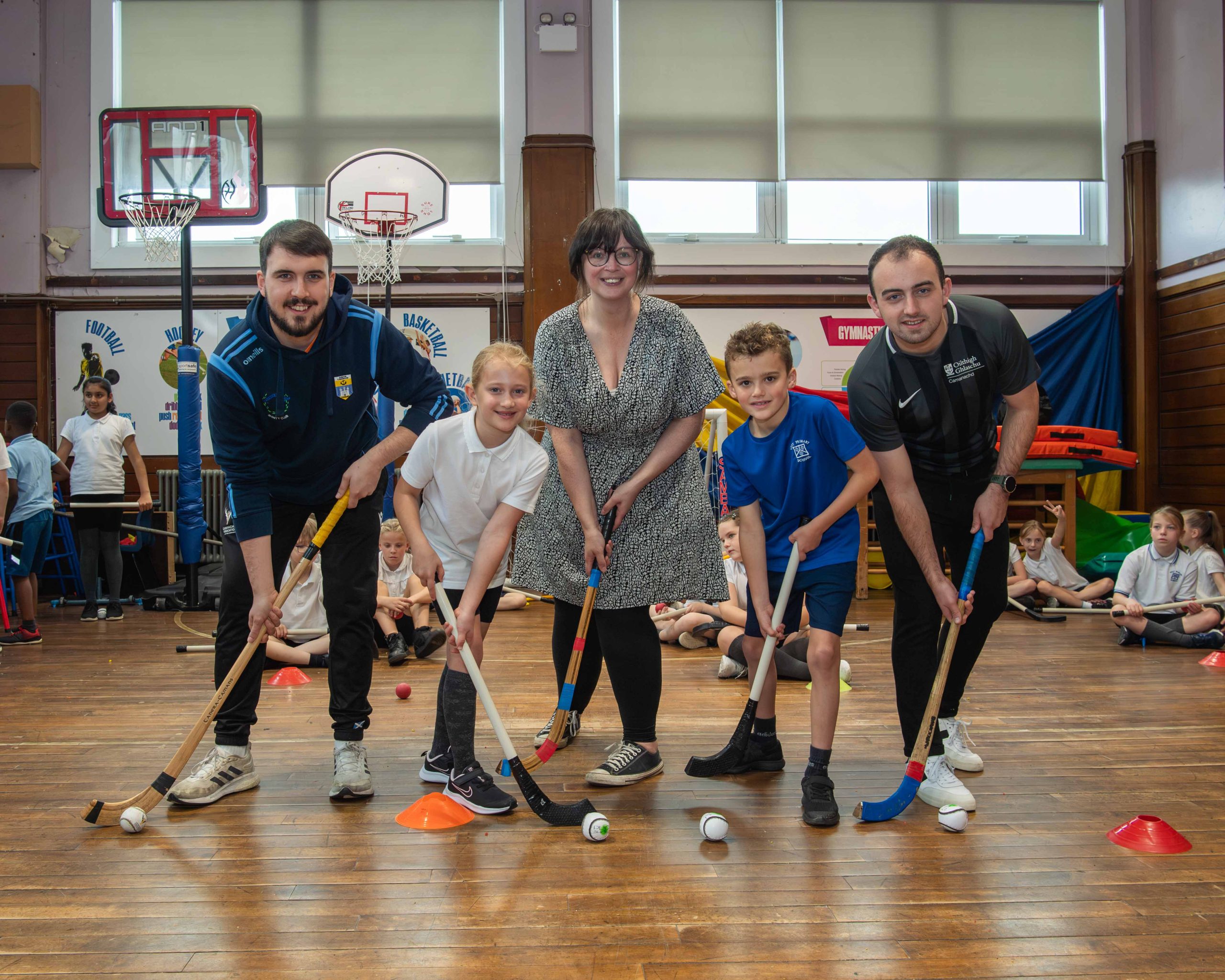 Photo: (left to right) – Cameron Middleton from OneRen Active Schools, pupil Laura Isdale, Councillor Lisa-Marie Hughes, pupil Connor Dell and Rory MacDiarmaid from OneRen Active Schools
Photo Credit: Renfrewshire Council
---
Headline photo at top of page: (left to right) OneRen Active Schools coach Cameron Middleton, West PS pupil Alasdair Wilken and Kirsty Macdonald and Rory MacDiarmaid from OneRen Active Schools Photo Credit: Renfrewshire Council