Paisley Food and Drink Festival 2023 begin on Friday and a key feature of this year's event is the Renfrewshire CAMRA (Campaign for Real Ale) Beer Tent.
Event organisers are teaming up with Renfrewshire CAMRA once again to host a dedicated Beer Tent as part of the festival grounds on Friday 21 and Saturday 22 April.
The marquee will be located on Bridge Street and will have around 50 cask conditioned ales sourced from Scotland and 30 craft beers on keg from Scotland and Northern Ireland, including vegan and gluten-free options, plus a cider and a perry from Ayrshire on offer.
David Cassidy, Chair of Renfrewshire CAMRA said: "We're really excited to be coming back to Paisley Food and Drink Festival again this year.
"The cask beer has been sourced only from breweries across the length and breadth of Scotland providing an even larger choice to the beer connoisseur, be them young or old, and we have a beer for all tastes from pale, golden, ruby and dark ales.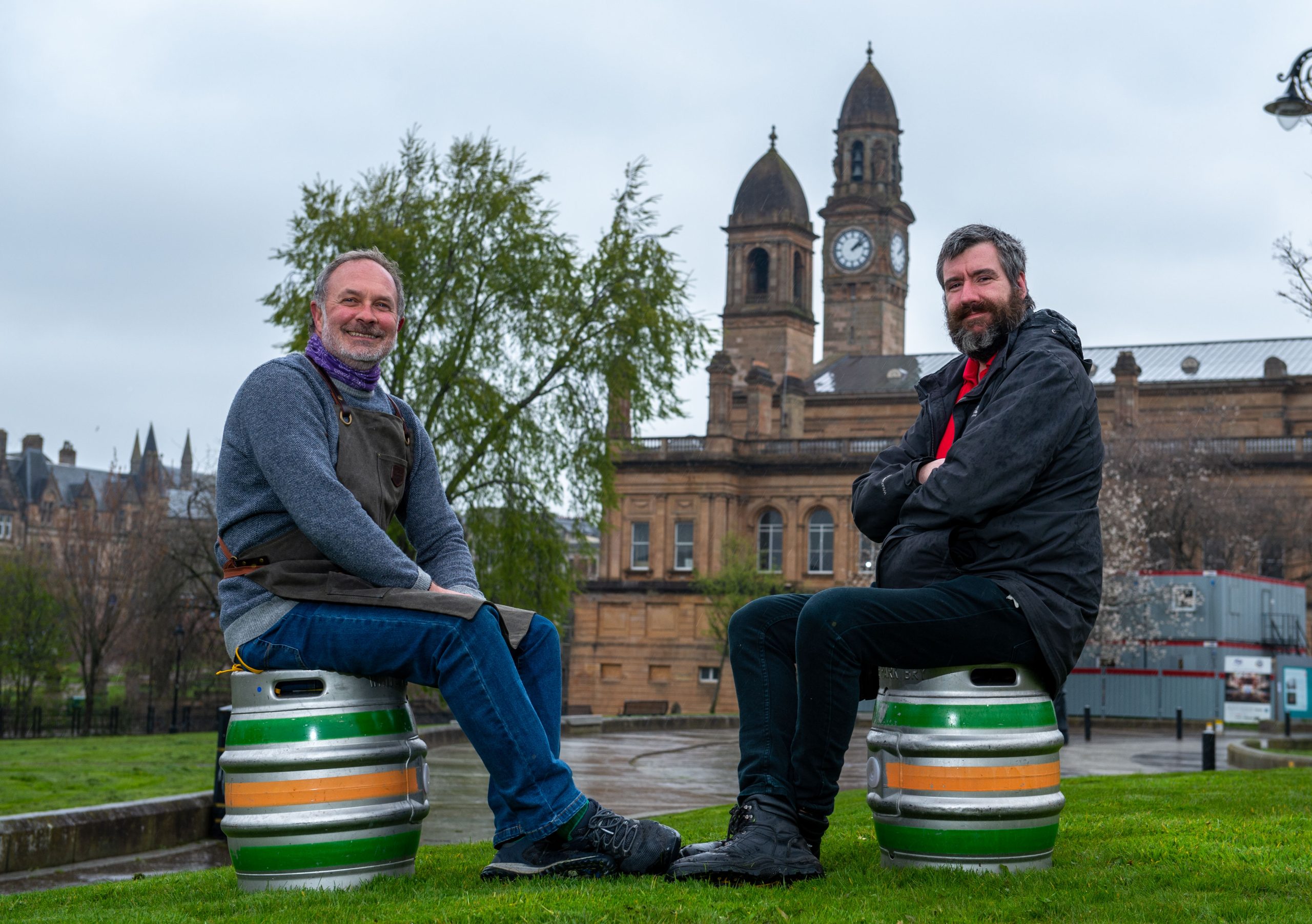 Photo: Alex Ward and Stephen Murphy of Renfrewshire CAMRA
Photo Credit: Renfrewshire Council
"The keg beer bar offers a selection of beer from Scotland and Ireland specialising in fruit, sour, pales and pilsners.
"I would add that we have the biggest selection of Scottish beer so far this year as well as the best selection of sours in the west of Scotland.
"If you're looking to try something new, we would encourage you to come by the Renfrewshire CAMRA Beer Tent and sample the wide range of cask conditioned ales and craft beers we'll have available."
Paisley Food and Drink Festival takes place in the town's Abbey Close and Bridge Street from 4pm – 10pm on Friday 21 April and 12noon – 9pm on Saturday 22 April 2023.
This year's line-up will see more than 30 delicious street food traders, artisan makers and licensed bars.
A host of Renfrewshire favourites will be on hand to serve up a range of tasty treats, including Scozzese woodfired pizza, Porelli Loop and Scoop, Café Fairfull, Japan Street Food, Funky Fudge, Dark God rum and Two Towns Down Brewing.
Plus, there will be great music and entertainment at the Live Stage and The Keg Stage & Bar across both days, while there's lots for families to enjoy with children's workshops and come-and-try sessions with Paisley Community Circus on the Saturday.
Paisley Food and Drink Festival is organised by Renfrewshire Council and takes place from 4pm – 10pm on Friday 21st and 12pm – 9pm on Saturday 22nd April 2023.