A sensational, dynamic and inclusive programme of concerts, events, exhibitions and workshops has been unveiled for the Royal National Mòd which returns to Paisley between 13 – 21 October 2023.
Scotland's premier Gaelic cultural event will celebrate the language and Scottish traditional music, song, drama, literature, art and sport.
Hundreds of musicians and artists will take to stages, halls and libraries in over 20 venues across Paisley and its surrounding areas during the nine-day event when it returns to the Renfrewshire town for the first time in ten years.
Mòd Phàislig will get underway with the Cuirm-Fosglaidh a' Mhòid 2023 (Mòd 2023 Opening Concert) at Paisley Town Hall on Friday 13th October, featuring contemporary folk act, Breabach. The five-piece, who are currently Folk Band of the Year, will be one of the first acts to take to the stage of the newly refurbished Renfrewshire venue.
The hall will also play host to an unforgettable night of traditional music and Gaelic culture showcasing young talent from Renfrewshire and beyond for Ar Cànan 's Ar Ceòl (Our Language Our Music) on Saturday 14th October. Fèis Phàislig youngsters and the Renfrewshire Schools Pipe Band will put on a show-stopping performance, whilst The Glasgow Gaelic Choir will be joined by some of Scotland's finest Gaelic singers including Ainsley Hamill, Deirdre Graham and Joy Dunlop. Kilbarchan Pipe Band and Jenna Reid and Harris Playfair will also make an appearance on the show's fantastic bill.
A specially created show launching the reworked Gaelic song collection of Frances Tolmie: Gun Sireadh Gun Iarraidh, will also take place at Paisley Town Hall on Tuesday, 17th October.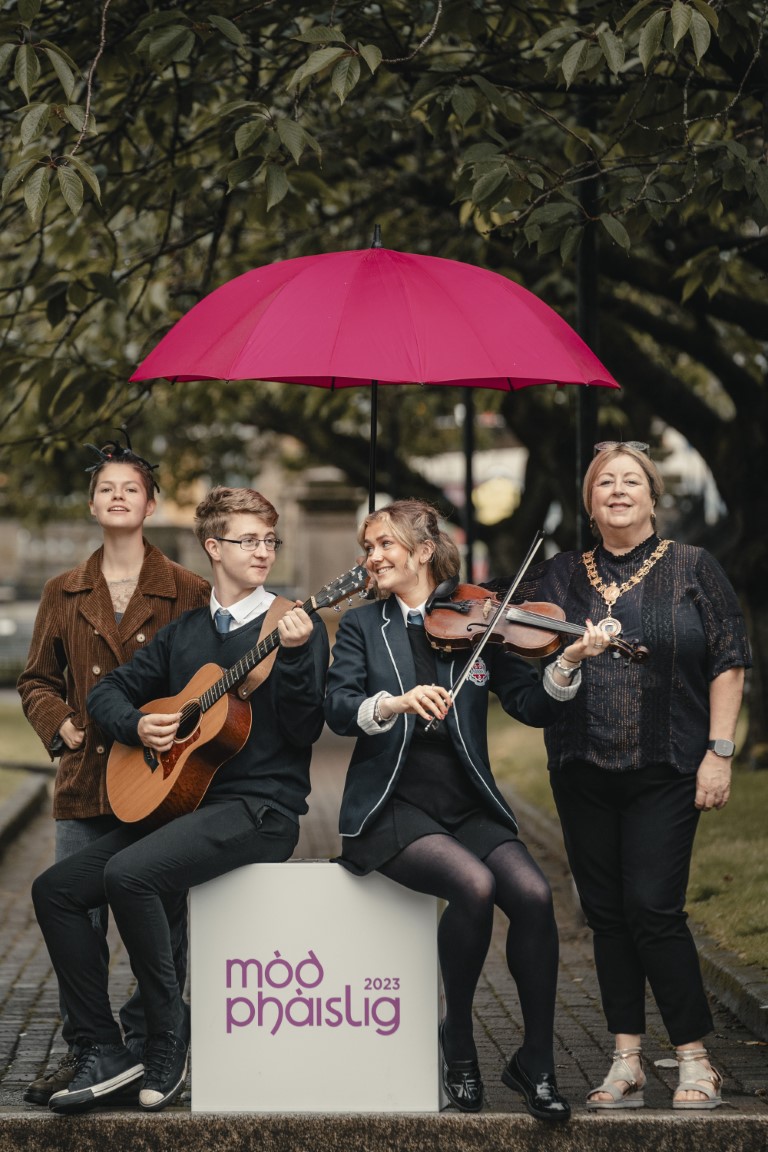 Photo: Gaelic and Scots singer and d/Deaf performer Evie Waddell (far left) and Renfrewshire Provost Lorraine Cameron (Far right) are joined by young musicians Emma Loney and Luke McIntosh of Paisley Grammar at Dunn Square to celebrate the programme launch of Mòd Paisley 2023
Photo Credit: Jamie Simpson/Royal National Mòd
Tolmie's iconic collection of songs have been passed down, reimagined and reshaped over many years, and are being brought together in one special collection by Kenna Campbell and Ainsley Hamill. The pair will be joined by others who have used Tolmie with their own repertoire and style, including Ceitlin Lilidh, Mischa Macpherson, Màiri Callan, James Graham, Rachel Walker, Mary Ann Kennedy, Wilma Kennedy and Seumas Campbell. They will be accompanied by a Scottish folk all-star house band.
There will also be an opportunity to connect with Gaelic outdoors – thanks to a Gaelic Nature Walk at Paisley's Fountain Gardens led by Alasdair Whyte and developed in partnership with local community development organisation STAR Project. On Sunday 15th October, participants will be able to experience Paisley's oldest public gardens, discover Gaelic folklore and learn Gaelic names for the trees, plants, animals, birds and features in the park.
Workshops are also on the programme, with Gaelic speaker and traditional musician Evie Waddell hosting Fàilte Gu British Sign Language (BSL) (Welcome to BSL) on Friday 20th October. Joined by a team of d/Deaf performers, Evie will help participants learn some Gaelic signed song and rhythmic traditional step dance in what is set to be a joyful cultural exchange that will be open to all. A vibrant show will follow at Paisley Town Hall that evening, using traditional songs and stories, sign and dance, to explore the relationships between Scottish culture, Gaelic and BSL.
There will be a varied and extensive programme for families across the week with activity taking place in venues right across Renfrewshire. Struth will return on the Monday and Tuesday, giving young people the opportunity to chat with some of Gaeldom's best-known stars, while week-long Mòd Kids Clubs and day sessions led by Fèis Phàislig, and local partners such as Lochwinnoch Arts Festival and Erskine Arts, will fill the October school holidays with a raft of activity.
Gaelic Bookbug will run at libraries in Linwood, Foxbar, Ralston, Johnstone and Glenburn, while children's ceilidhs will take place at the UWS Students' Union on Monday 16th and Tuesday 17th October.
Later in the week, The Tannahill Centre will stage the Fàilte Cèilidh– a warm welcoming multi-cultural ceilidh for communities from all cultures to share stories in their native languages, mixed with Gaelic. The event on Thursday 19th October will be hosted by School of African Cultures in partnership with local community groups Pachedu and Inspiring Families.
As Halloween nears and the Mòd draws to a close, Saturday 21st October will see a Spooky Samhain Family Cèilidh at UWS Students' Union. This Halloween themed cèilidh for all the family, led by Fèis Phàislig, will celebrate Halloween and the Samhain festival in Paisley's famous fashion.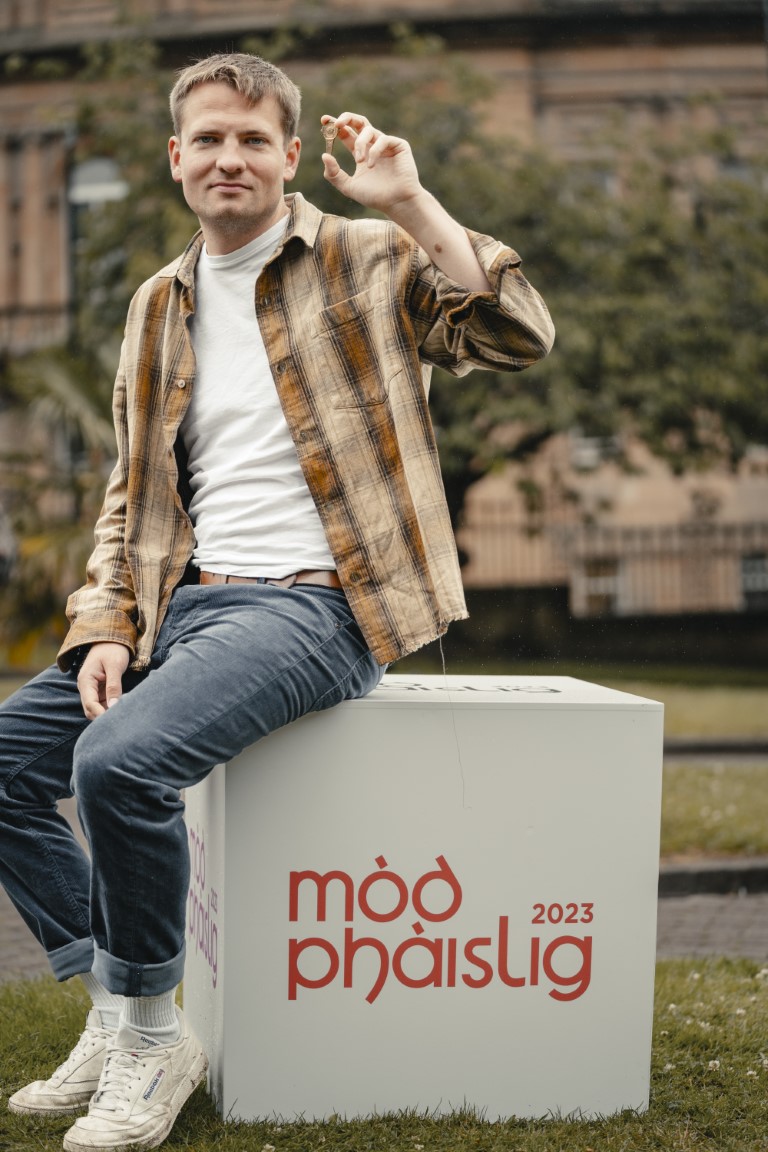 Photo: Scottish musician Robert Robertson, who won the Mòd Gold Medal in Paisley 10 years ago
Photo Credit: Jamie Simpson/Royal National Mòd
The coveted sport events will also bring the Mòd's programme of activity to the King George V Playing Fields on Saturday 14th October. The sport of the Gaels, shinty, will be played by men's, women's and youth teams in hotly contested finals, while the Football Mòd Cup will see two teams with Gaelic roots battle it out. While Sunday 15th October sees Paisley Abbey welcome the Mòd Church Service.
The celebrations are set to go into the wee hours and spill out into businesses across the town, with the Mòd Festival Club being held at The Sneddon. The Paisley pub will welcome a variety of pop-up live music sessions and entertainment each day of the festival and give event goers a chance to catch up after the day's festivities.
The much-loved Bungalow will host the Mòd Late & Live at The Bungalow, which will let visitors experience live traditional and Gaelic music from some of the best names on the scene. The Swan and The Keg will also be home to lively pub sessions throughout the week of the event.
The wealth of events and activities on offer sits alongside the Mòd's prestigious competition schedule, which will see the usual array of talent vying for the most coveted titles in Gaeldom. The Gold Medal, Traditional Gold Medal Final and Silver Pendant competitions, choirs competitions and Drama Final will all take place throughout the week, alongside children's and music competitions, which will all welcome competitors from across Scotland and the wider world to Paisley.
Battle of the Bands will also be back for 2023 as young Scottish traditional and Gaelic acts perform for an esteemed panel of judges and lively audience at the The Wynd Centre for the final on Tuesday 17th October and the Literature Prize Giving will be held on Wednesday 18th October.
Following last year's addition of art into the Mòd programme for the first time, artworks   championing Gaelic culture and Scottish life from across Scotland will also be celebrated at the Mòd Phàislig with a digital display. The entrants for the Highland Art Prize will then be showcased at Glasgow's Briggait from Friday 20th October. Visitors can also enjoy a guided tour of the ten longlist finalists.
A fitting finale to the Paisley Mòd will come in the form of the much-loved Massed Choirs. Hundreds of singers in choirs across Scotland will join in solidarity when they congregate in Paisley town centre on Saturday 21st October.
That night, folk-electronica powerhouse Niteworks will play Paisley Town Hall to round off a spectacular nine-day celebration of Gaelic. The concert presented by The Reeling, which was announced last month and marks the band's only Scottish venue gig of the year, has seen fans snap up tickets.
James Graham, Chief Executive Officer of An Comunn Gàidhealach, said: "This year's Royal National Mòd programme truly has something for everyone and shows the incredible breadth and richness of Gaelic language and culture spanning all backgrounds and ages. From tots engaging with the language for the first time, to the very best Gaelic singers in the country, Paisley is set to welcome thousands of people this October. It's a joy to return to the town for the first time in 10 years and we will look forward to seeing streets, pubs, libraries and venues thriving with Mòd Phàislig activity across the nine days this autumn."
Renfrewshire Provost, Lorraine Cameron, said: "I am looking forward to welcoming all visitors and competitors to Mòd Phàislig this October. When the town last hosted the Mòd 10 years ago it was one of our best-ever attended events. I am sure we can build on this legacy and create another fantastic event that will showcase the valuable role Gaelic plays in our culture.
"This year's Mòd Fringe programme has something for everyone, and I would encourage as many people as possible to come along and take part in the celebration of our Gaelic heritage."
Paul Bush OBE, Director of Events, said: "It's fantastic to see the Royal National Mod return to Paisley for the first time in 10 years and I'm delighted that the event is once again supported through EventScotland's International Funding Programme. Paisley and Scotland will provide the perfect stage for such a uniquely Scottish event and provide a warm welcome to visitors, both local and international."
Shona MacLennan, Bòrd na Gàidhlig Ceannard, said: "The Royal National Mòd is an integral part of Gaelic culture and heritage and plays a huge role in bringing Gaelic speakers and learners together.  It contributes to the aim of increasing the use of Gaelic in Scotland through celebrating our language and culture.
"We are delighted to see this year's Mòd programme being launched and look forward to meeting old friends and new in Paisley in October."
The Royal National Mòd is supported by EventScotland, Bòrd na Gàidhlig, Renfrewshire Council, EventScotland, The Scottish Government, HIE, Creative Scotland, Caledonian MacBrayne, BBC ALBA, The Reeling and SQA.
To find out more about Mòd Phàislig events or to book tickets visit www.modphaislig.com.