Kibble youngsters took part in a heroic hike across the famous Fairy Trails of Dalry Glenn to raise funds for a care worker's son who survived a stroke a mere 12 hours after birth.
Six-year-old Murray Jordan survived the terrifying ordeal while only hours old and now lives with quadriplegic cerebral palsy and uncontrolled epilepsy. He is additionally registered blind and non-verbal.
His mum Emma is a care worker with Kibble, a specialist children's charity with bases across central Scotland.
Emma and Murray's dad Peter are now fundraising £30,000 for a new bedroom and wet room for their child in their family home, and young people from Kibble's Paisley Campus joined the effort by dressing in attire fit for a superhero to hike across the Fairy Trails.
The young people who stay at Bute, one of Kibble's residential houses, carried out their fundraising via a bucket collection at the charity's Paisley Campus front gates and sponsorship forms shared with family and friends.
Emma said: "When the young people found out about Murray's fundraising campaign, they made it very clear that they wanted to get involved. I'm very open about Murray's condition with them and they are always asking after him. I think they see him as an extension of the family they have formed at Kibble.
"They decided to do a superhero sponsored walk in support of our fundraising, because that's what Murray is to them – a superhero!"
Bute is a specialist children's house, tailored to young people with experience of trauma, and provides high levels of support and therapeutic care for young people with complex mental health needs.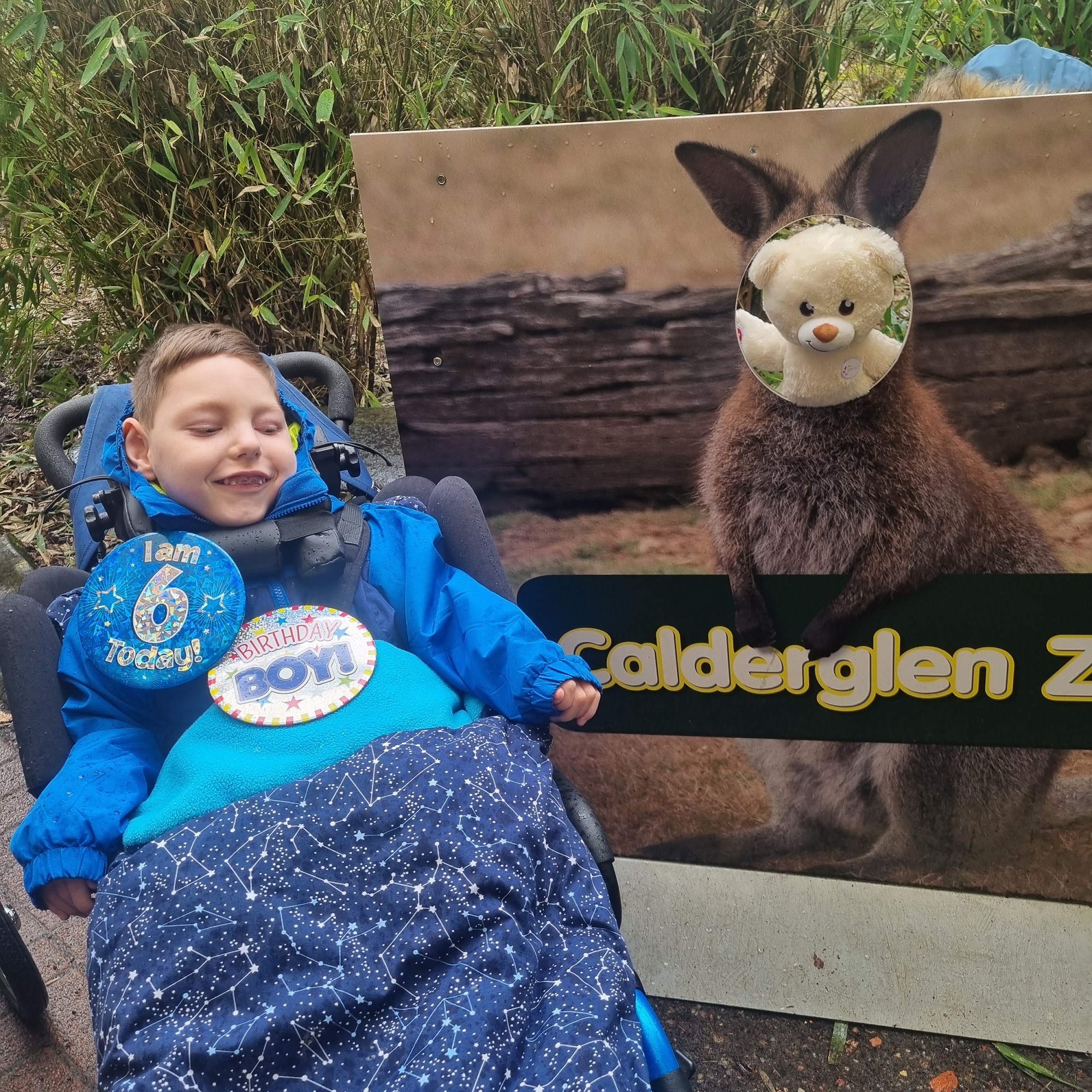 Photo: Murray Jordan
Photo Credit: Kibble Education & Care Centre 
Emma, who has worked as a Child and Youth Care Worker at Kibble since 2020, said: "I was so humbled when the kids wanted to get involved. They have been through so much and work through some really tough issues on a daily basis. My job is to support them, but they have jumped at the opportunity to show me and my family that same support when we need it most."
This is the first of a planned schedule of fundraising events that will be undertaken by Kibble's young people and staff to support the vital developments at Emma's home.
Emma added: "Currently, Murray's bedroom is on our second floor. Because of his disability we need to physically carry him upstairs, which can be difficult, especially with his seizures. It will only get more difficult as he gets older.
"Moving his bedroom and creating a wet room to the ground floor will give Murray more independence and improve the safety of his day-to-day routine. It will also give Murray easy access to the garden as he loves being outdoors. Right now, it feels like somewhere we live, but once we can make these upgrades and get Murray settled, it can finally be our home."
Jim Gillespie, CEO at Kibble, said: "The enthusiasm and dedication shown by young people at Kibble is a testament to the strong relationships formed between Emma and those she supports.
"We are a true family at Kibble and are set on supporting Emma and her family as they continue their fundraising journey. Keep your eyes peeled for plenty more events at Kibble!"
If you would like to donate to Emma's Just Giving page, you can do so here: https://bit.ly/3qGo0P0.
Headline photo: Amy Carden, Alan McManus, Stacey Connor, Elaine McLachlan, Emma Jordan and Jenna Biddulph from Kibble
Photo Credit: Kibble Education & Care Centre