Johnstone woman Kerryanne is celebrating the completion of a master's degree in child Protection during Adult Learners Week 2023 .
Kerryanne, 37 is a mother of two children and a child and youth care worker at leading child and youth care charity, Kibble.
She completed the degree at the University of West of Scotland (UWS) while working full time, supported by Kibble's in-house learning and development team which fully funded the placement.
After joining Kibble in 2008, aged 22, as a sessional child and youth care worker, Kerryanne quickly developed a passion for child and youth care, wanting to give each child she worked with the best chance at life possible.
She said: "When I started at Kibble, I was so inspired by the young people I spent time with. Some of them have challenging backgrounds and deal with complex issues daily, however, always had this great attitude towards life.
"Although I always try to give everything I turn my hand to my very best effort, I was extra determined to give my all to supporting and protecting the young people at Kibble."
This passion led Kerryanne to peruse the range of Further Study opportunities offered by Kibble, initially completing a HNC in Social Services, expanding her knowledge of child protection, child development and social pedagogy.
Following this, Kerryanne continued her educational journey with Kibble, completing her master's degree in Child Protection. Over 10% of Kibble's entire work force is currently enrolled in a further education programme, from HNCs right through to Master and PhD level diplomas.
Reflecting on her initial experience in further education, Kerryanne said: "Going back into education was a little scary for me. It can be challenging to get back into the rhythm of studying after working full time. But everyone at Kibble from my manager to my colleagues were so supportive.
"I had to juggle learning with full time work being a parent to my daughters. It was by no means an easy feat, but Kibble was able to support me to find a level of work life balance through flexible working patterns and offering ongoing investment into my development."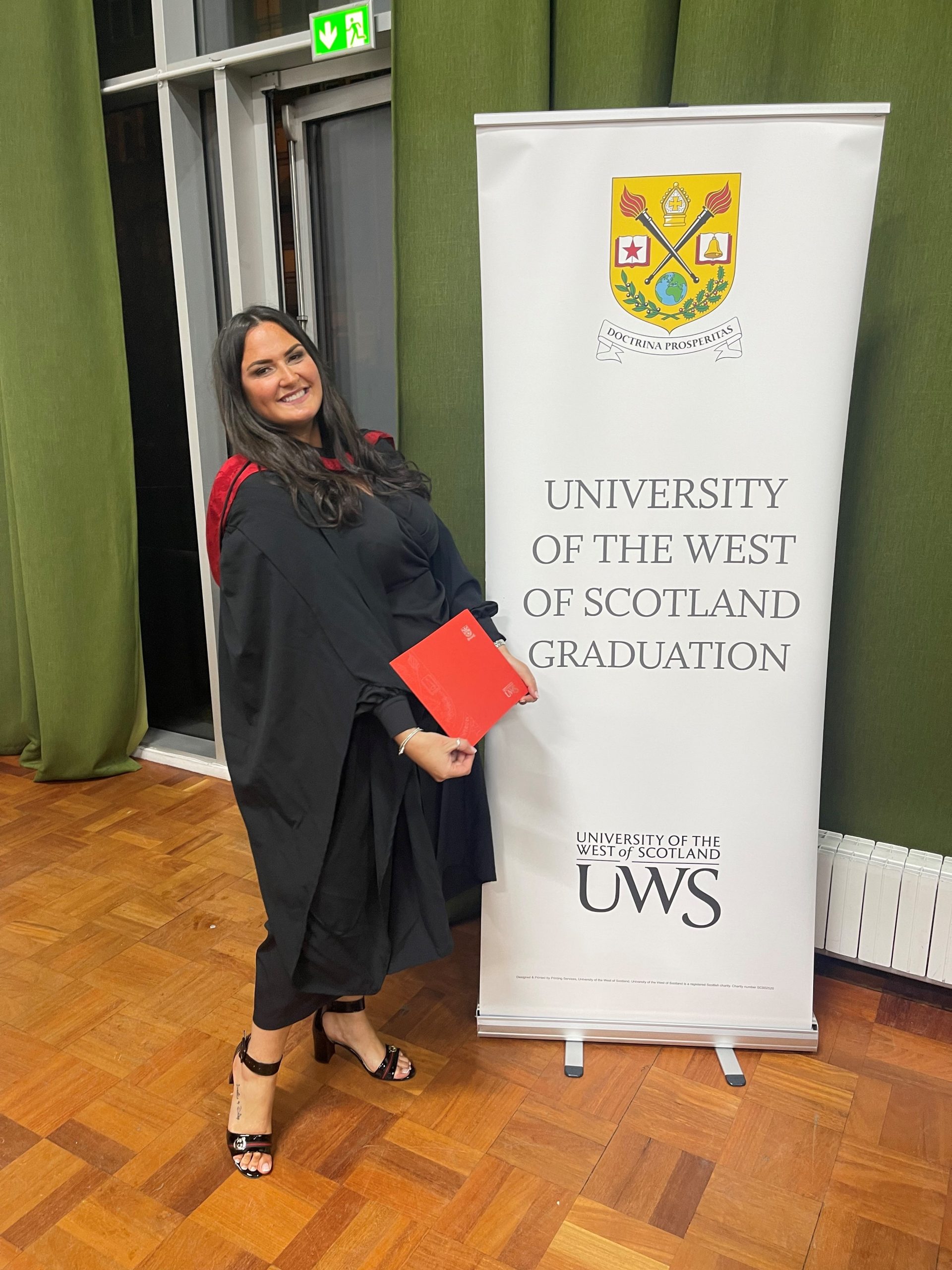 Photo above & headline photo: Kerryanne completed a master's degree in child Protection at UWS
Kerryanne graduated with her master's degree in February 2023 from the University of West of Scotland. She celebrated the achievement at a ceremony held at Paisley Abbey attended by close friends and family.
She now plans to use the skills and knowledge gained from this degree to ensure that the young people at Kibble receive the highest quality of care available, giving them the tools to find happiness and success in their lives.
When asked about what she would tell others who were interested in re-entering into education as an adult, she said: "You have to go for it. Everyone's journey is different. Some might go into further education straight from school, while others initially enter into the workforce then return to studying. There is no right path when it comes to education, and it is never too late to learn a new skill.
"To study while working the right support needs to be in place to help you along the way. I am so thankful that Kibble was able to see my potential and offer that support. I wouldn't have achieved what I have without them."
Kibble has a diverse staff team of over 700 employees with roles in care, education, psychology along with support services including catering, human resources and ICT. It operates an award-winning in-house learning and development team that offers a comprehensive range of training opportunities, from in house training to Graduate Apprenticeship schemes, higher education qualifications and opportunities to lead research projects.
To find out more about career development opportunities at Kibble, please visit: https://www.kibble.org/work-with-us/why-work-for-kibble.