A historic Gaelic literature honour has today been awarded to Scottish poet and translator Niall O'Gallagher, as he is announced as the new An Comunn Gàidhealach Bard. It comes as the Royal National Mòd 2023 reaches its sixth day in Paisley.
The prestigious accolade was first awarded 100 years ago and recognises and honours someone who has made a significant contribution to the Gaelic literary world.
Niall O'Gallagher is the 59th Bard to be crowned and takes over the mantle from poet and broadcaster Peter Mackay. Niall studied and taught at the University of Glasgow, before going onto work as a journalist and begin writing poetry. He published three critically acclaimed collections of poetry between 2013 and 2020, which saw him shortlisted for the Derick Thomson Prize and win the Wigtown Poetry Competition's Gaelic prize in 2020.
Niall's English and Scots translations of Gaelic poems by Christopher Whyte were collected in Ceum air Cheum / Step by Step and shortlisted for the 2019 Saltire Scottish Poetry Book of the Year. In the same year he was named Bàrd Baile Ghlaschu, Glasgow's first Gaelic Poet Laureate. His Selected Poems, Fuaimean Gràidh / The Sounds of Love was published this year by Francis Boutle and he is currently working on a verse novella supported by an Ignite Fellowship from the Scottish Book Trust and Gaelic Books Council.
Niall O'Gallagher said: "I'm delighted to receive this honour from An Comunn Gàidhealach. I'm looking forward to getting down to work, following in the footsteps of so many wonderful poets."
Wednesday of the Mòd is traditionally literature day and alongside the crowning of the new Bard, there is a packed programme of literary delights on the programme. These include a reading from the new Bard and a conversation between him and the outgoing Bard.
An event marking 100 Years of Bards will also be staged this afternoon, as An Comunn Gàidhealach and publisher CLÀR launch a new book edited by Gillebride MacMillan, which will explore the fascinating evolution of the historic literary honour.
An array of other writing, art and media awards will also be presented at the Literature Prizegiving and Jo MacDonald and Mairi Sine Campbell are set to talk about the new book Somhairle MacLean – In his Own Words, paying tribute to the major Gaelic poet.
Back in the singing sphere, yesterday saw teens aged 13-15 from across Scotland compete in the girls and boys Traditional Silver Medal competitions at The Methodist Church. Eoghann Campbell from Portree High School and Dingwall Academy pupil Sophie Stewart won the Traditional Silver Medal, Gold Badges. Eoghann also picked up the Aggregate Prize, The Ann Kelly MacDonald Memorial Trophy.
The Methodist Church also played host to the Boys 13-15 Own Choice Silver Kilt Pin & Girls 13-15 Own Choice Silver Pendant competitions yesterday evening. Ardnamurchan High School pupil Alasdair Iain MacAoidh took the Silver Kilt Pin and Falkirk's Isla Duke won the Silver Pendant. The pair were among a field of exceptional young singers who sang a variety of traditional songs.
At Paisley Town Hall, Sir E Scott School Choir from the Isle of Harris took home a host of trophies in the junior choir competitions. In the under 13s, they won Aberfoyle and District Branch Trophy for the Choral Unison Fluent event, the Mrs Schroder Cup in the Choral Puirt-à-Beul competition and the Mrs Ann Grant of Laggan Memorial Trophy for the Choral Harmony Fluent event. The talented youngsters also nabbed the Susan Paterson Caledonian MacBrayne Trophy as the highest achievers across all categories. In the morning's 13-18 choir competitions, Sir E Scott School Choir also won the Choral Unison Open, Puirt-à-Beul Open and Choral Harmony Open events.
Elsewhere youngsters joined famous Gaelic faces in conversation for Sruth and emerging trad act Darroch were crowned winners of the second-ever Battle of the Bands competition at Re:Hope Church. The trio met in 2020 at Plockton School of Music and are now students at the Royal Conservatoire of Scotland.
The day was rounded off with a stunning concert at Paisley Town featuring two giants of Gaelic song, Kenna Campbell and Ainsley Hamill, and an all-star cast of vocalists. Together they celebrated a new reworked Gaelic song collection of folklorist Frances Tolmie, bringing audiences on a moving musical journey of Gaelic song and stories.
The cultural competition and musical showcases continue today with more children's competitions and the Mòd Drama Final which will welcome local drama groups from across Scotland to PACE at The Art Department in Paisley.
Today also sees the momentous Silver Pendant competition and Gold Medal Final staged in Paisley Town Hall's main auditorium. Top male and female singers, learners in the Silver Pendant and fluent speakers in the Gold Medal, will perform to win the sought-after titles.
Award-winning electro-trad duo Valtos will round off the day's excitement with a lively set at The Bungalow.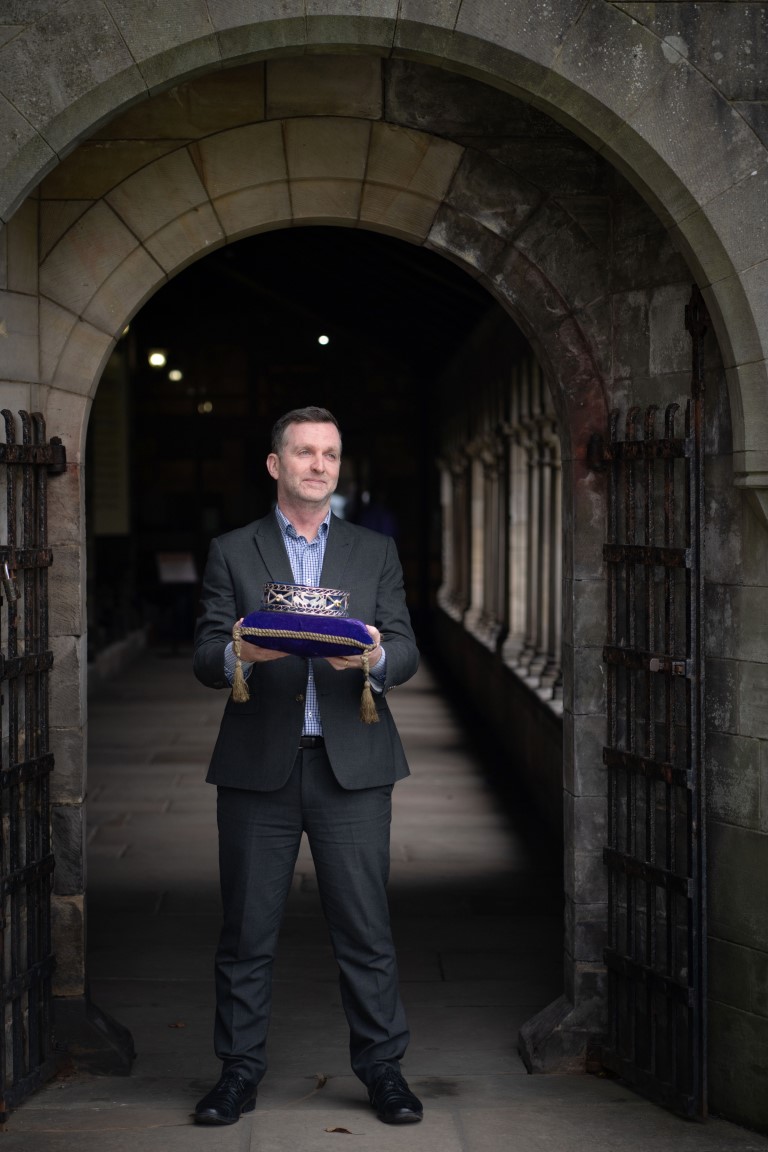 Photo: Bard of An Comunn Gàidhealach Niall O'Gallagher
Photo Credit: Royal National Mòd 2023
James Graham, Chief Executive Officer of An Comunn Gàidhealach, said: "As we come into the second half of the Mòd, Wednesday is always an incredibly important day as we celebrate Gaelic literary excellence and look ahead to some of our major flagship competitions. It's fantastic to see Niall O'Gallagher crowned as our newest Bard and I look forward to seeing how he continues to make a significant contribution to our language and culture. Paisley Town Hall and venues across the region will be filled with activity today and we are looking forward to seeing some incredible vocal talent on display."
Ealasaid MacDonald, Ceannard (CEO), Bòrd na Gàidhlig said: "Firstly, I'd like to congratulate Niall O'Gallagher on being named as the latest An Comunn Gàidhealach Bard. It's an honour he fully deserves for his significant and impactful contribution to Gaelic literature. I'd also like to congratulate all of the young people who've taken part in the competitions and events over the past 5 days for putting on such an excellent display of talent and enthusiasm, especially those who've managed to pick up an award."
Renfrewshire Provost, Lorraine Cameron, said: "The Royal National Mòd is well underway, and it's brought a real sense of excitement and buzz to the town. Our local venues have put on a fantastic range of gigs and events for Mòd fans and novices to enjoy. It's been great to see so many visitors and locals enjoying the celebrations and taking in everything Gaelic music, language and culture has to offer.
"When we hosted the Mòd ten years ago – it was one of the best attended in the festival's history at that time and we're hoping to break that record again this year!"
The Royal National Mòd is supported by EventScotland, Bòrd na Gàidhlig, Renfrewshire Council, The Scottish Government, HIE, Creative Scotland, Caledonian MacBrayne, BBC ALBA, The Reeling and SQA.
The Royal National Mòd runs in Paisley until Saturday 21st October. To find out more about Mòd Phàislig events and to book tickets, visit www.modphaislig.com.
Headline Photo: Bard of An Comunn Gàidhealach Niall O'Gallagher
Photo Credit: Royal National Mòd 2023