Paisley's celebrations for World Gaelic Week (Seachdain na Gàidhlig) mark the start of the countdown to the town hosting The Royal National Mòd – a decade since it last staged the prestigious event.
Mòd Phàislig, organised by An Comunn Gàidhealach, is expected to bring thousands of visitors and competitors to the town for the nine-day festival which will take place at venues across Paisley from Friday 13 – Saturday 21 October.
The Royal National Mòd, Scotland's premier celebration of Gaelic culture and heritage, will feature a range of competitive disciplines, including Gaelic song, poetry, literature, drama, instrumental, Highland dancing and sport.
While the Mòd fringe will see a range of events and opportunities for people to experience and enjoy everything Gaelic arts and culture have to offer, including activities for children and families, alongside the main festival programme.
The second annual Seachdain na Gàidhlig runs from 20th – 26th February. This year's celebrations are under the theme of 'Coming Together' and prioritise bringing communities together and promoting the importance and use of Gaelic language.
Local Gaelic arts and culture group Fèis Phàislig secured funding from Seachdain na Gàidhlig organisers, Hands Up for Trad, to host Bàrd Phàislig: The Paisley Bard Resource Creation and Family Cèilidh as part of this week's celebrations. Some Fèis musicians talked about their excitement at the Mòd coming to Paisley this year.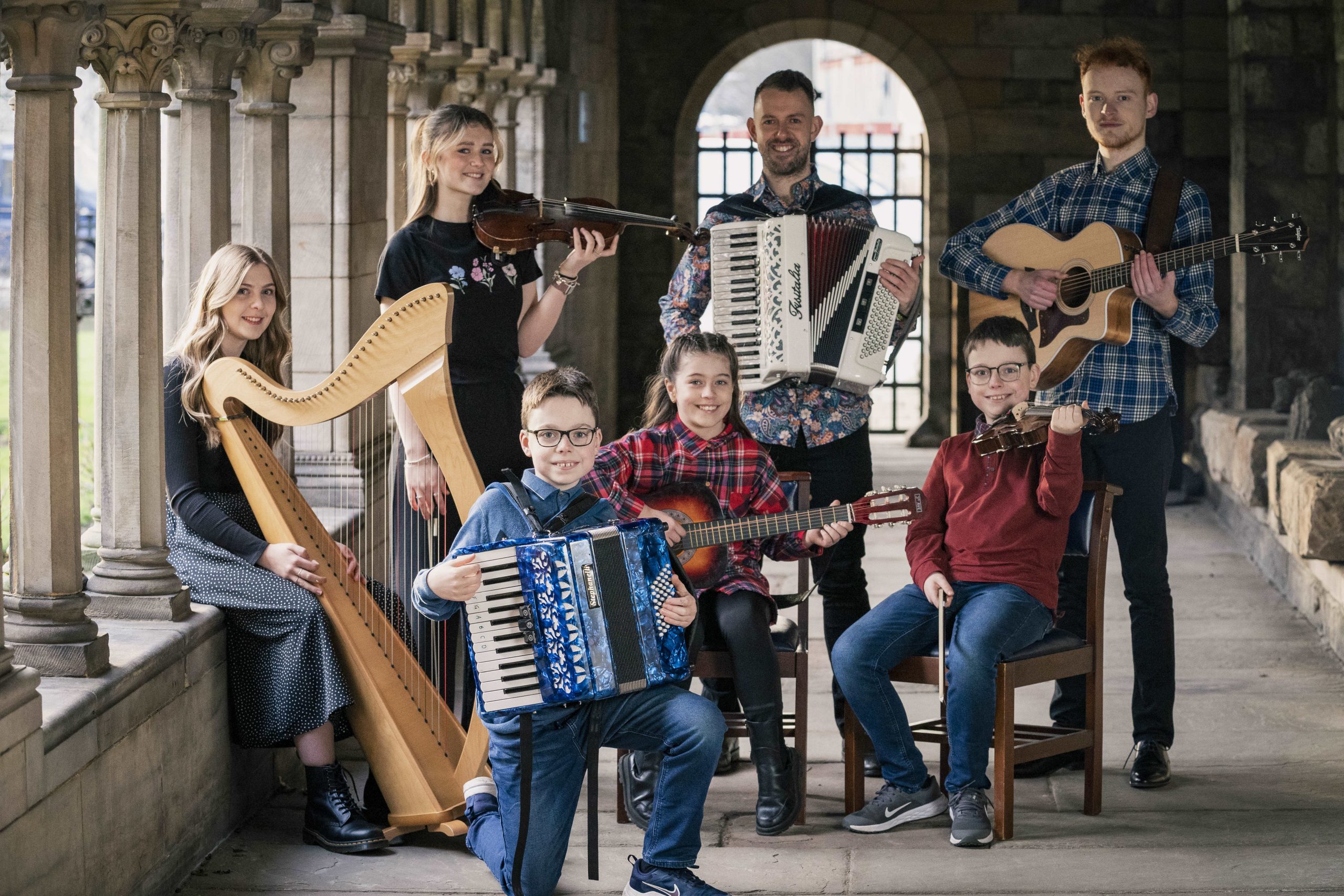 Photo: Main image features from left to right: Back row: Emily Fraser – Clarsach, Ceilidh Trail Musician, Emma Loney – Fiddle, Ceilidh Trail Musician, Grant McFarlane – Accordion, Fèis Coordinator & Founder and Steven Gallagher – Guitar, Ceilidh Trail Musician. Front row: James Roberts – Accordion, Weekly Lessons Participant, Kerrigan Donnelly – Guitar, Weekly Lessons Participant and Michael Roberts – Fiddle, Weekly Lessons Participant
Photo Credit: Renfrewshire Council
Fèis Phàislig coordinator, Grant McFarlane, said: "The Mòd is a fantastic opportunity to showcase the Gaelic culture that is thriving in the town since the event was last here in 2013. Organisations like the Fèis have come to life and there's a real community in Renfrewshire for Gaelic culture and the Mòd is a great opportunity to develop and expand that community."
Fèis ceilidh trail musician, Emma Loney (17) has never been to the Mòd before. She said: "I fell in love with Trad music because it's very relaxed and informal – there's a great feel behind it and I'm really looking forward to seeing everyone come together from all over to enjoy and play traditional music at the Mòd."
Perth reported a £2.5million boost to the area's economy when they hosted last year's Mòd. Some 95% of those surveyed at the 2022 event also said they would be likely or highly likely to visit the Mòd in Paisley this October.
Renfrewshire's Provost, Lorraine Cameron, said: "Seachdain na Gàidhlig offers the perfect opportunity to showcase the rich Gaelic culture which has developed in Renfrewshire since we last hosted the Mòd in 2013.
"I am looking forward to welcoming The Royal National Mòd back to Paisley this year, and preparations are well underway to make sure Mòd Phàislig is a fantastic celebration of Gaelic language and culture."
James Graham, Chief Executive Officer of An Comunn Gàidhealach, said: "We can't wait to bring The Royal National Mòd to Paisley once again this October. Mòd Phàislig 2013 was a fantastic event and the town's growing commitment to developing Gaelic culture and language over the last decade is wonderful to see. I'm looking forward to learning more about Paisley's diverse heritage over the course of the festival and it will be brilliant to celebrate Gaelic music and culture across Paisley's beautiful venues."