Tom Arthur, MSP for Renfrewshire South, met with Operations Director Ronald Leitch at Glasgow Airport earlier this month.
Tom was invited to the facility for an update as part of a regular schedule of meetings between the two parties.
The Renfrewshire-based transport hub advised that they had been preparing for one of their busiest weeks of the year, with an estimated 120,000 passengers expected to pass through the doors during the October school holidays. The airport also highlighted new services such as the Pret A Manger store opening which has created 30 new jobs for local people and the introduction of a valet parking service.
Tom also took the opportunity to discuss the proposed changes to Glasgow Airport airspace, as part of a country-wide programme of modernisation and strategic change.
Speaking after the meeting, SNP politician Tom, said: "Glasgow Airport is not only one of the busiest in Scotland, and a key driver of tourism to this country, it is also a major employer for Renfrewshire South and the wider west of Scotland area.
"The Airport regularly holds Jobs Fairs to promote employment opportunities, which they advertise on their media centre (www.glasgowairport.com/media-centre) and in the local press.
"It was an absolute priority for me to raise the issue of proposed airspace changes on behalf of my constituents. I was keen to make sure residents voices would be heard and that all stakeholders will have the opportunity to engage with the process and to be fully informed of the intended amendments.
"I am reassured that the Glasgow Airport team are fully committed to an open and engaging programme of public consultation in early 2024 and that as soon as this is available, it will be widely publicised to residents, businesses and all other entities that may be affected.
"It is always a pleasure to visit the airport and to hear about the exciting projects they have lined up, many thanks to Ronald and the team and I look forward to catching up again soon."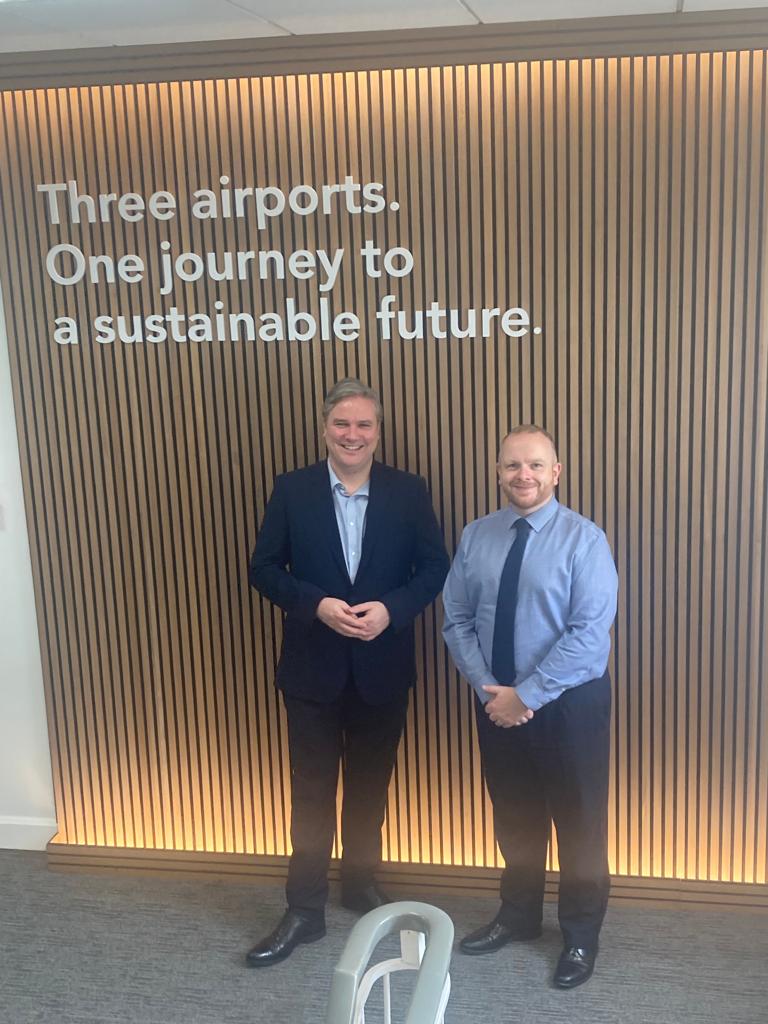 Photo (& headline photo at top of page): (Left to right) Tom Arthur, MSP for Renfrewshire South, and Glasgow Airport Operations Director Ronald Leitch at Glasgow Airport